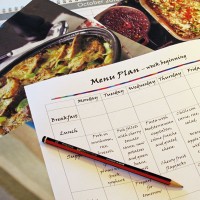 A make ahead menu plan for the weekday meals
Last week was a really busy week. I had to work late a couple of nights so the children had to cook supper – and (brilliant kids that they are) they did too! It was great to come home late to find supper waiting.
It was largely thanks to Delia Smith's 'How to cook book' which my eldest was given for Christmas – it expects nothing and gives instructions for everything including boiling eggs and cooking potatoes. I can vouch for the fact that the results are good, even for previous non-cooks (Thanks Delia!).
I did, of course, plan what we were going to eat before. Planning meals ahead has transformed my weeks. In the Dark Days before I took up menu planning I often found myself dashing to the shops on the way home from work to meet the school bus (always late) – or driving out to the take-away later. So I try to plan our meals every week – this week's is below if you're also looking for ideas!
So what are you eating this week?