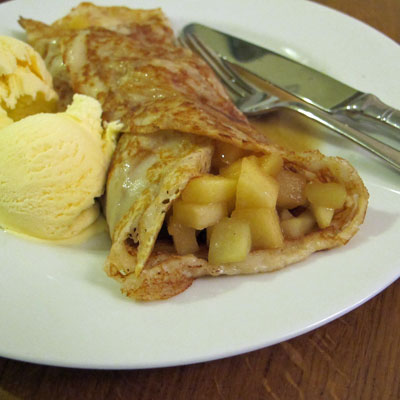 It's always a real treat to have pancakes in our house so we will definitely be having pancakes on Pancake Day. They were one of the first things I ever actually 'cooked' with the children. Even those who don't like cooking enjoy making pancakes – perhaps it's the uncertainty about where the pancake will actually land when it's tossed.
Pancake Day is of course Shrove Tuesday, which is the last day before Lent starts on Ash Wednesday. It seems that the tradition of eating Pancakes arose because it's the last day to feast before the fasting season of Lent and pancakes are a good way to use up the rich foods such as eggs and sugar.
So if you need a reason to eat them that sounds good enough to me!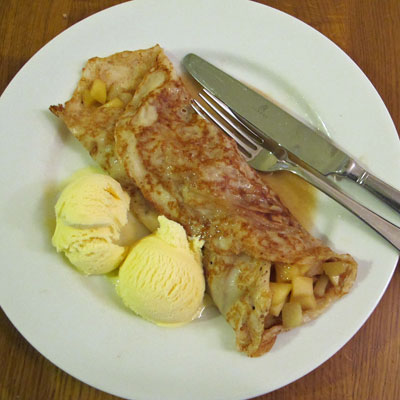 Pancakes with Apple, Lemon and Cinnamon recipe
(This served our hungry family of 4)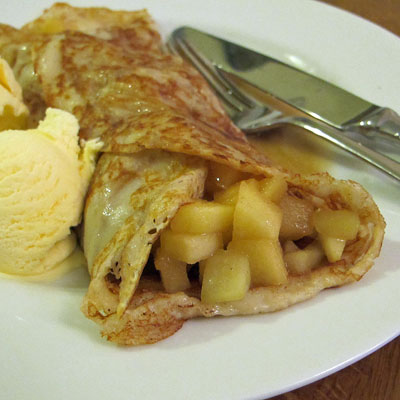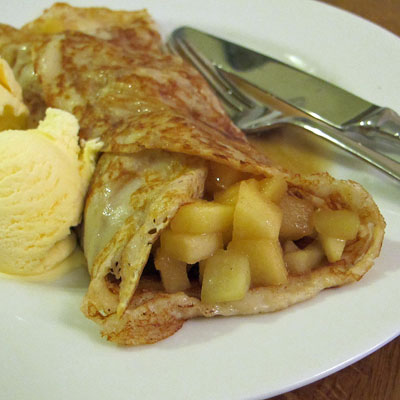 Ingredients
300mls of milk
1 egg
pinch salt
120g flour
Zest of half a lemon
1 dessertsp caster sugar
75g butter
75g caster sugar
3 apples (I used braeburns)
½ teasp cinnamon
1 dessertsp lemon juice
Method
Peel and slice the apples. Put them in a bowl and sprinkle over the lemon juice and cinnamon – mix.
Place the butter and sugar in a large thick-bottomed pan over a medium heat. I do this in a high-sided pan, which has plenty of room.
Heat the butter-sugar mixture on a medium heat for a few minutes swirling from time to time to mix and ensure even heat until the sugar has dissolved. Keep over the heat until the mixture begins to brown a little.
Add the apple slices – using a spoon to add them bit by bit. Be careful as the mixture can sputter and its very hot.
Cook the apple slices in the sauce over a medium heat for another 5-10 minutes turning them occasionally. When softened, remove from the heat and allow to cool.
To make the pancakes:
Put the milk into a food processor with the egg and a pinch of salt.
With the motor still running add the flour, lemon zest and sugar. Leave to stand for a few minutes.
Melt a little butter in a frying pan. When melted and bubbling, add about a ladleful of batter, swirling it round to cover the bottom of the pan evenly.
When brown on the bottom, flip the pancake over and cook on the other side for a minute or two. Slide onto a plate.
Pancakes I think, taste best straight from the frying pan so we do sometimes eat them in stages with everyone taking their turn at cooking / eating. But if you want to keep them hot try Delias tip of stacking them on a heatproof plate over a pan of simmering water, separating them with layers of greaseproof paper.
Fill each pancake with apples and serve with ice-cream
Enjoy your Pancake Day!