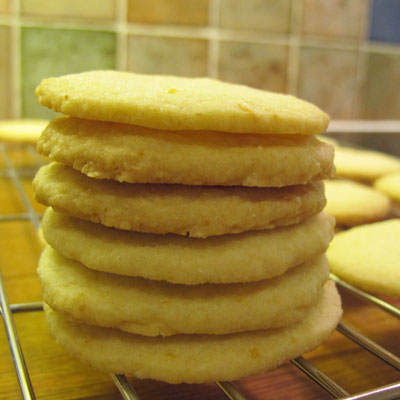 "When life gives you lemons, make lemonade" – or so the saying goes.
But when I was wondering what to do with my leftover lemons last week, lemonade didn't seem quite right with snow threatening outside.
If months were fruit, then in my view January would be the lemon.
The start of the year is definitely a time of starting the new diet, tightening belts, and using up all those leftover half jars, tins and packets of things in your cupboard. But sometimes it seems difficult to give up all the indulgences of Christmas / New Year at one blow!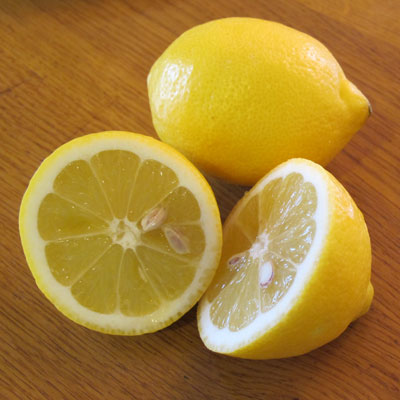 Fortunately, when I was rummaging in the cupboards to see what other supplies I had that needed using up, I found a packet of cornflour that was approaching retirement. What else could I do but make shortbread? So here's my suggestion:
If January brings you lemons – make…
…Lemon Shortbreads
These are deliciously crumbly and are so light and thin that you can almost convince yourself that they won't have any effect on the weighing scales!
And, if you don't want to make them all at once then you can freeze them for later. The first time I made them I froze half for using later, and then cooked them straight from the freezer in about 15 minutes.
I'm going to link these to the January Tea Time Treats hosted by Karen at Lavender and Lovage this month and co-hosted by Kate at What Kate Baked. The theme this month is citrus so these should hopefully fit in well.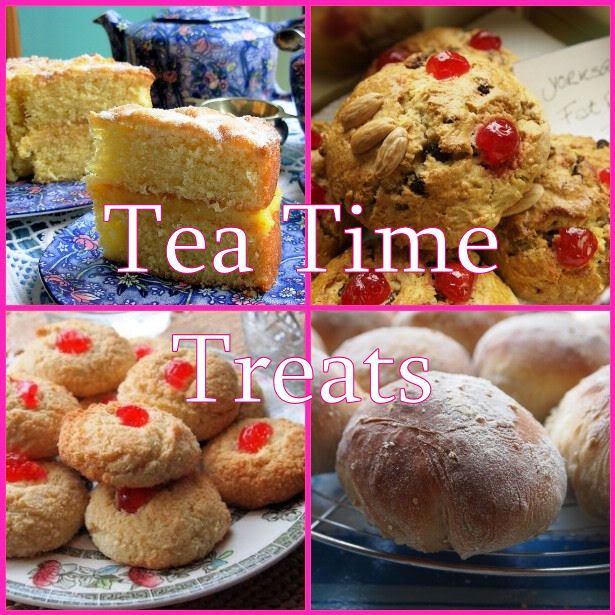 Lemon Shortbread
(Makes about 25 – 40 depending on how thin you slice them)
Ingredients
175g very softened butter
75g caster sugar
zest of one large lemon
175g plain flour
75g cornfour
Method
Process the caster sugar and lemon zest together in a food processor. (This is not essential if you don't have one)
Make sure the butter is well softened (I put it in the microwave for 20 secs) and then add the lemon sugar and mix well
Gradually add the flours and mix to a paste
Tip out onto a large piece of baking parchment and form into a sausage shape, about 4-5 cm in diameter. You need to be fairly firm about this as you don't want any air pockets left inside the shortbread sausage, but try not to handle the shortbread mixture too much
Wrap the shortbread up inside the baking paper, flattening the ends as you go, and put in the fridge for an hour or two until firm




When you want to cook them, heat the oven to 180&#176C. Unroll the sausage onto a chopping board and then cut it carefully into thin slices about half a centimeter thick.
(If you want to freeze them then lay the shortbread rounds on a piece of baking parchment on a freezable tray. Prick each with a fork (if you don't do this you won't be able to do so before cooking and the shortbreads will rise a little), cover and place in the freezer. When frozen you can put them into a freezer bag. When you want to cook them, follow the instructions below, but you will need to increase the cooking time to about 15-16 minutes)
Lay the shortbreads onto a baking tray lined with baking paper, leaving a little space in between. Prick each one with a fork
Cook for about 7-8 minutes. They are done when they are just beginning to brown slightly around the edge. If you want them a little crunchier leave until golden brown on top
Leave them on the tray for a few mins to firm up before transferring to a wire rack to cool. Sprinkle with a little more caster sugar at this point.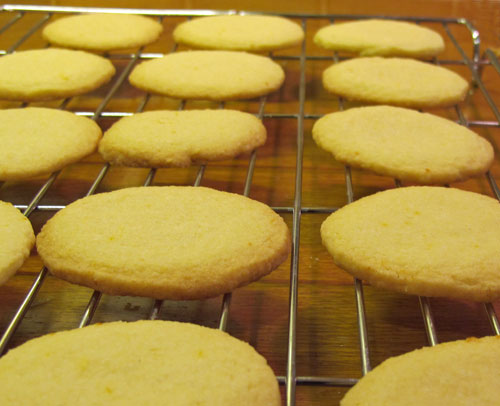 What are your favourite cookies?