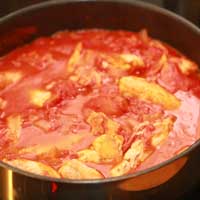 Planning to have leftovers is one of my favourite ways to save time in the kitchen.
Just make sure that if that is your plan that you take out the portion that you want 'leftover' before serving up the meal.
I can't count the times I've made industrial amounts of food for supper thinking that there just MUST be leftovers, only to have everyone dive in enthusiastically for third helpings, and suddenly it's all gone!
As I said in the last post, if you make a bit extra Bacon and Tomato sauce (and you want about half the quantity given in the recipe) then you can use it to make this quick and easy Chicken Cacciatore the next day – or freeze the sauce for later and use it next week / month / whenever.

The following day:…
Chicken Cacciatore
(Serves 4)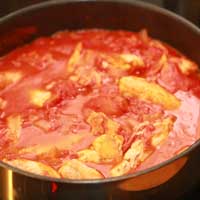 Ingredients
~600g diced chicken breast
1 clove garlic, crushed
About 150ml chicken stock
1 bay leaf
Reserved Bacon and Tomato sauce
Sliced black olives (optional)
Method
Brown the chicken in a little oil and 1 clove of garlic in a thick bottomed casserole dish
Add the remaining 1/3rd of the tomato sauce and just enough chicken stock to cover the chicken.
Add the bay leaf and simmer gently, stirring occasionally until chicken is cooked through (about 20 minutes if using whole chicken breast fillets).
Remove the bay leaf, scatter over the sliced olives if using and serve with rice and salad