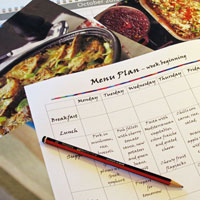 Wow! Isn't it great – Summer is finally here (although we may have said that before?)!
Yes, after weeks of moaning about 'inclement weather' in the UK, we have finally reached a glorious bank holiday summer weekend.
We spent it camping at the Big Church Day Out at Wiston House in Sussex – a big Christian music festival – which was great. Newworldson have my vote as being the best act of the weekend, although the boys were pretty keen on Guvna B and The Steels.
It was a slightly last minute decision as the weather had looked so wet and windy and a weekend under canvas in the rain isn't my idea of a relaxing break.
But in the end it was fun. And it meant we didn't have to cook – so a good time was had by all (and the salmon is waiting in the freezer for another time).
However, it did mean that I was planning the weeks meals last Friday when it was raining and windy, so some of my menu choices are a touch wintery if this week is going to continue as it has started.
Fruit week went quite well – the Lemon and Strawberry Cheesecake was the favourite – but it's still an uphill struggle. I'll keep trying..

Price: I've added the side-dishes as well so I could give you the total price. Through mysupermarket.co.uk and with the cheapest reasonable ingredients these five main courses cost up at just over £20 for the five nights (Sainsburys prices).
To get ahead:
> Make the vegetable and lentil curry beforehand and freeze (even better make double quantities and freeze both portions – in case plans change!)
> Chop the veg for the stirfry and have ready well wrapped in the fridge for when you need them.
All the meals then take less than half an hour. Toad in the hole is a little longer (~40 minutes) but most of that is waiting for it to cook in the oven.
OR
> Enjoy the sun and worry about meals later!
You may also like: