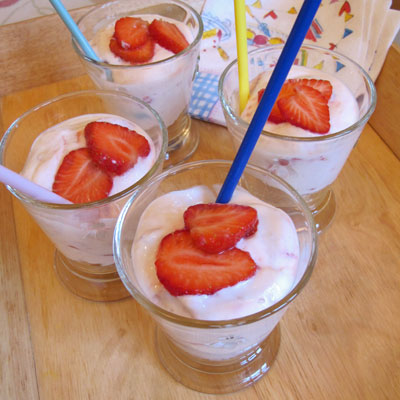 This is possibly the Easiest Cheesecake in the World.
It's quick enough to make on a weekday night (it takes about 10 – 15 minutes) – and it's low fat enough for you not to feel guilty about eating it / serving it up to the family!
This one was a slight variation on the normal recipe I use – all because I had a stray pot of Lemon and Ginger Yoghurt to use up. If you don't, and you don't feel like investing in one then you can use vanilla yoghurt instead.
But this version went down really well in our house…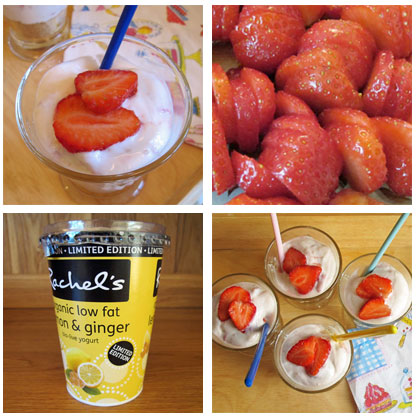 Lemon and Strawberry Cheesecake
(Serves 4)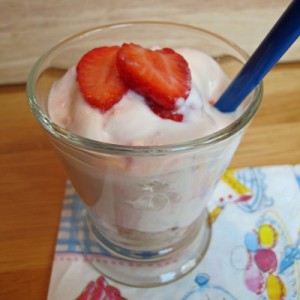 Ingredients
½ a 500g pot of (low-fat) Lemon and Ginger Yoghurt (I used Rachels)
200g (low-fat) soft cheese
~3 tablespoons of caster sugar (but you may need more according to taste)
About 250g strawberries, hulled, washed and sliced
5 digestive biscuits
Directions
Crush the biscuits into crumbs – either whiz in a food processor, or put in a freezer bag and crush with a rolling pin. Spoon into 4 glasses
Put the cream cheese into a bowl and stir till softened. Add the yoghurt, sugar to taste and beat until a smooth consistency
Keeping a few strawberry slices to decorate, stir the remaining strawberries into the yoghurt-cheese mixture, crushing them a bit as you go. Dollop on top of the biscuit crumbs – decorate and keep in the fridge until ready to eat
Sit back and enjoy the compliments
(These are best made (or at least assembled) just before eating, otherwise the biscuit crumbs can go soggy)