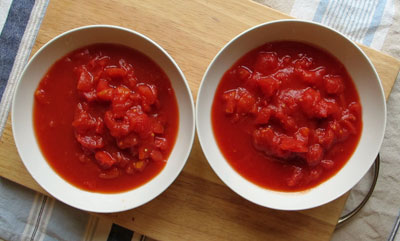 You would expect – wouldn't you? – that a week of living on pasta and mixed veg (total cost 28p a portion) would you make you VERY grateful to be able to go back to a more varied, tasty (and costly) diet at the end of the week. And I am very VERY appreciative I can tell you!
Interestingly, I have also noticed one or two other after effects of my 5 days of (mostly) living below the line. I've never been very happy to throw food away but in the last few days I've noticed a complete reluctance to throw ANY food away – so much so that after a weekend of using up leftovers and on-the-way-out vegetables, I now have several portions of soup and a vegetarian chilli in the freezer.
Clearly it would be good if I can hang on to this new way of thinking.
Also – I've learnt some interesting facts about tinned tomatoes (among other things).
Having had to budget really hard to get down to £1 a day, made me take a fresh look at the range of products and prices in the supermarkets – it is truly staggering.
For example, a tin of chopped tomatoes can cost you anywhere between 31p and £1.19 for two different brands. Yes, one is a supermarket economy brand and the other isn't – one was 60% tomatoes and the other 70%. I'm sure there are other differences but I couldn't find a lot of description on the internet shopping site I was using. So do you buy 3 ½ tins or one for your money?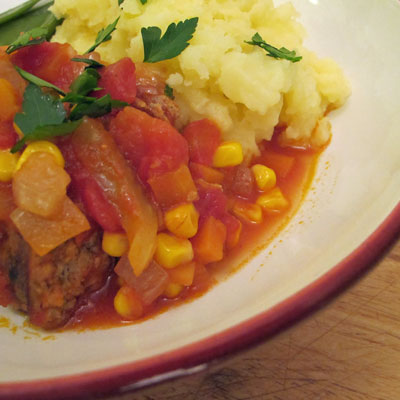 I used the cheaper tin recently in this Sausage casserole recipe, which the family then gave a 4 star rating. Maybe I'll make it again next week with the more expensive tin and see if it goes up to 5* – or maybe I'll just put the money I saved towards something else!
Whichever tomatoes you choose, this recipe is pretty simple. It was given to me by a friend of mine when we were students. It's comforting, easy and quick, so perfect for a weekday evening. And at under £4 for 4 servings it is cheap.
Sausage Casserole
(Serves 4)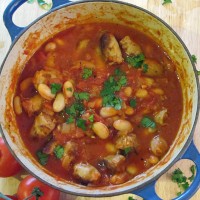 Ingredients
1 pack of good quality sausages
1 onion, finely chopped
1 400g tin chopped tomatoes
1 small tin sweetcorn OR 1 small tin cannellini beans
1 tablespoon tomato puree
1 tablespoon Worcester sauce
½ – 1 teaspoon dried mixed herbs
Directions
Brown the sausages under the grill and then cut into thirds
Meanwhile, soften the onions in a small amount of oil. Add the tomato puree, tinned tomatoes, Worcester sauce, sausage pieces and dried mixed herbs
Bring to the boil and simmer for 10 minutes or so until all is cooked through
Add the cannellini beans or sweetcorn for the last few minutes