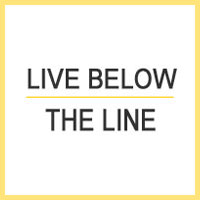 It's five days on and I've managed to get to the end of the Live Below the Line week! I'm walking around with a sense of achievement – and a cheque for Tearfund. Phew.
Here's the summary (add a banana and you have my total food ration for the day):

[You may notice one very small slip (Oh dear). Lets not talk about that. Something to do with an invitation to lunch which the family (who weren't joining me in this) wanted to go to – what could I do? Just don't ask how much I argued on Day 4 of a pound a day.]
I even have food left over:
1 egg (9p)
500g flour (15p)
1 portion pea soup (18p)
Which means that in five days my spend on food was £4.56 (and a free lunch).
Three meals and a snack a day, on less than a pound! But to put it in perspective, I only achieved 50-60% of my recommended calorie intake, 80% of carbohydrate and protein and 15% of recommended daily intake of fat. Dropping down to that overnight did have some interesting physical effects which I wasn't expecting. Suffice it to say that I had planned to continue for another day to make up for slips but in the end didn't.
Whether you consider I've been successful or not, I can tell you that I've done quite enough this week to understand a few things:
– how confusing supermarket prices are and how hard it can be sometimes to work out which product really is the cheapest
– how much I missed a cup of tea!
– how much food we unwittingly waste each week – and if food waste is such an issue globally that's a problem
– and, most of all, how very blessed I am to be able to give up living below the line and go out to supper tonight to enjoy a lovely meal with my family, and not worry about where the next meal will come from.
And I have of course raised some money for Tearfund to help in their fight against poverty and the IF campaign. My sponsors were very forgiving – THANK YOU!
If you want to read more about the Live below the line challenge and peoples experiences, visit a girl called Jack where Jack Monroe is taking the challenge to new limits. Having spent less than £2.50 so far she plans to continue until all her food is gone, however long that takes.
If you want to read more about the IF campaign have a look here.