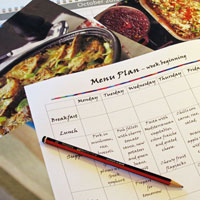 Another week and another menu!
Last week ran away with me a little so although I did manage to plan our weeks meals ahead I didn't manage to post.
The best meals were a lovely, warming Lancashire Hotpot, and a Pea and Parmesan risotto. Also we had a delicious Pear Tarte Tatin for Mothers Day that I will tell you about some time – that one disappeared very fast so I will need an excuse to make another very soon.
This week is somewhat less busy than last – although I guess in a week which contains Red Nose Day, just about anything might happen!
Our weeks menu plan is: