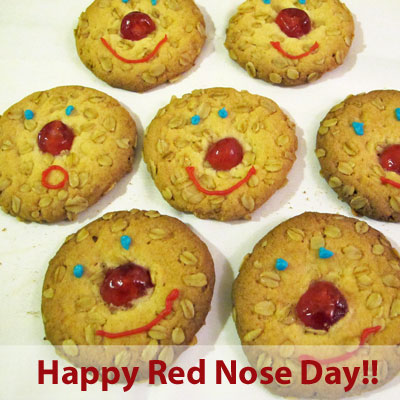 Happy Red Nose Day!
I made these to celebrate – the only problem is that I made them last night and most of them have already gone.
Melting Moments were one of the first things I learned to make in my Cookery lessons at school – in amongst the lessons on how to make a roux and rolling out the flaky pastry. You can guess which recipes were taken home to make again (!) and these were a favourite when I was younger.
I hadn't made them for ages but now I've tasted them again I can't really remember why not. Watching them disappear it's clear that the family were happy. They really do live up to their name and just melt in the mouth – especially if eaten still warm (but not straight out of the oven as they need to harden up a little). Maybe it was something to do with the fact that in the original recipe they were rolled in crushed cornflakes and somehow that seemed more like breakfast to me than biscuits. Whatever, rolled oats are just right.
They are very simple to make so you could still bake a few to munch whilst cheering everyone on. Have a good day!
Melting Moments
(Makes about 20)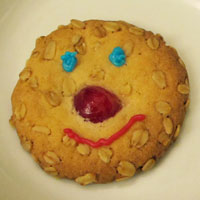 Ingredients
4 oz (115g) softened butter
3 oz (85g) caster sugar
1 egg yolk
a few drops vanilla extract
4 oz (115g) self-raising flour
Jumbo rolled oats
Glace cherries to decorate
Directions
Cream the butter and sugar together
Beat in the egg yolk and flavour with the vanilla
Stir in the flour
Roll a small amount into a ball, roll in rolled oats and flatten slightly. Place on a sheet of baking parchment on a baking tray. Decorate with half cherries for red noses and bake at 180&#176C. The recipe says 15-20 minutes. I cooked these for 17 minutes and, even though they were delicious, I think I'll try cooking them for a minute or two less next time.
Let them harden slightly before transferring to a wire rack to cool