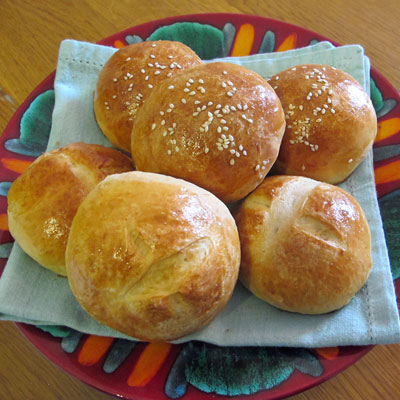 Fresh homemade bread, warm from the oven, is one of lifes' real pleasures. Nothing quite beats the warm comforting smell wafting through the kitchen, or the taste of just cooked bread covered in melting butter!
I'm into a bit of a bread making phase at the moment – but as you will know it's not exactly quick to make. Bread machines are of course one answer, but nothing can really beat making your own bread – and of course it's difficult to get rolls / baguettes / other shapes out of a rectangular machine!
Last weekend I decided that it was time for milk and honey bread rolls. I think it's because tramping around the luscious green fells of the Lake District kept reminding me of 'the land of milk and honey'! – the Promised Land that Moses led the Israelites too. Whatever the reason – once thought I just had to have a go. I was inspired by Lorraine Pascale's recipe for dinner party rolls, which have brown sugar in them and taste delicious.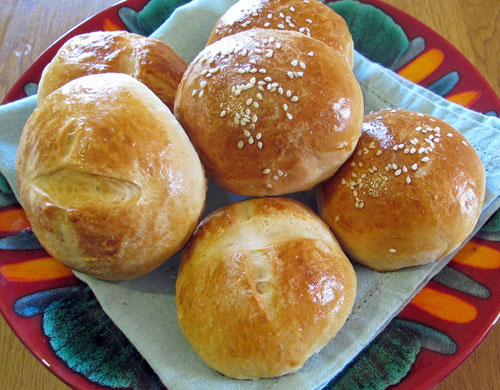 Anyway, these rolls are (for home made bread) relatively speedy to make. They use the quick dried (bread-maker) yeast so you only need one rise. They are a joy to make – the dough has a lovely smooth silky texture when kneading it (and kneading is always a very peaceful way to slow down and ease out the stresses of the week!)
The rolls have a rich golden, soft crust and without being sweet you can taste a tinge of honey. This amount makes 6 medium rolls so if you want more increase the quantities.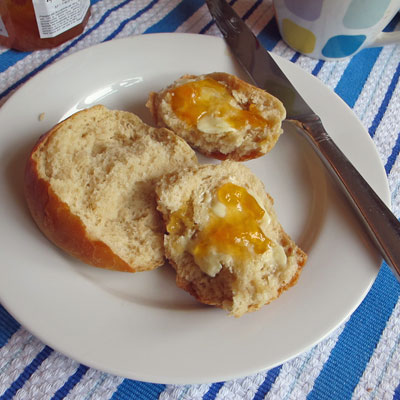 >
Milk and Honey Rolls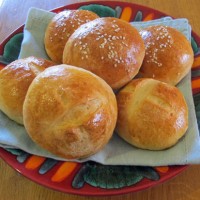 You will need
260g white bread flour
1 ½ teaspoon quick dried yeast
½ teasp salt
1 ½ teasp honey
80 mls water + 100 mls milk (handhot)
1 beaten egg
Sesame seeds (optional)
Directions
Put the first 3 dry ingredients into a bowl, stir together and then make a well in the centre
Put 80 mls of just boiled water into a jug. Stir in the honey until dissolved and them make up to 180 mls with cold milk – the temperature combined should be just about right (hand hot)
Pour milk mixture into the well and gradually mix flour and water. Leave to stand for 5 minutes (this allows the liquid to be absorbed and the dough is less sticky when you start kneading)
Knead for about 10 mins until smooth and springy
Divide the dough into 6 pieces – I do this by weight to make sure that they are equal
Form into rolls and place on a baking sheet, covered with oiled cling film. Leave to double in size (about 60 – 90 mins)
Heat oven to 200ºC
Slash rolls carefully with a sharp knife and brush with beaten egg. Sprinkle with sesame seeds if you want
Place a baking tray filled with about 150 mls hot water in bottom of the oven. Cook the rolls for around 20 minutes until crust is golden and they sound hollow when knocked on the bottom.