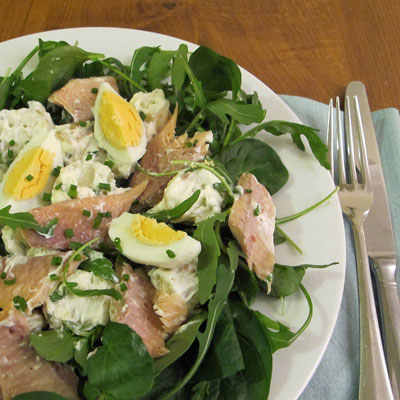 If you ever have evenings when you're in a real hurry and need (or want?) to produce supper in minutes, then this recipe just may be the answer.
I first made this meal a couple of weeks ago with smoked mackerel fillets (inspired by one from Good Food magazine), as part of my recent drive to have more fish in our diet. It is a very simple, fresh-tasting recipe that went down very well with the family and immediately went on our 'Please-Make-Again' list. Even better it only took about 15 minutes to make.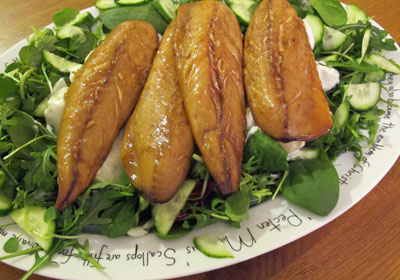 Unfortunately, only a week or so later it was announced on the news that the Marine Conservation Society had apparently moved Mackerel from their 'Fish to Eat' list to the Eat Occasionally list. And, of course, buy sustainably.
But of course there are lots of other fish and I made it again recently using Smoked Trout fillet. Sadly, they are quite a bit more expensive than mackerel, so I used less fish and added sliced hard-boiled egg to the salad – again a success. Or you could use any other fresh cooked fish with this.
It is not exactly a winter warmer and could be eaten all year round. But it's quick and versatile – and if you have the sort of evening when everyone has different plans and needs to eat at different times then this is just about perfect!
Warm Potato Salad with yoghurt, lemon and chive dressing, Rocket and Trout fillet
(Serves 4)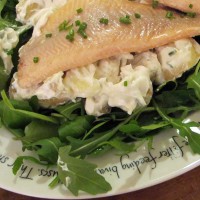 Ingredients
New potatoes for 4 (I used about 600g)
4 tbsp of natural yoghurt
4 tbsp mayonnaise
Juice of half a lemon
~ 1 tbsp of chopped fresh chives
salt and ground black pepper
a bag of Rocket salad
I used 4 (ready to eat) smoked mackerel fillets / or 3 trout fillets (about 180g), separated into pieces with 3 hard boiled eggs cut into quarters
Directions
Cook the potatoes – halved – in boiling salted water
Mix together the yoghurt, mayonnaise, lemon juice and chives. Season
When cooked, drain the potatoes and mix into the lemon mayonnaise
Serve with rocket salad and the fish, and some warm crusty bread