Click on the headings to see the choices!
This is one of those great recipes where you can cook double and have the basis for two different meals. Just my kind of recipe!
Make some extra bread dough and you can have enough for this Garlic and Rosemary Focaccia and four homemade Pizza bases – which you can freeze if you want to. Homemade pizza bases are the Ultimate Freezer Food in my book – top the frozen bases and cook – no-hassle supper in less than 20 minutes!
My problem when I first came up with this was how to organise it so that you can make the focaccia ahead of time. It is possible to make the dough ahead of time, wrap and keep in the fridge for a couple of days till you need it, but then it needs to warm up again and rise before cooking – all of which takes rather longer than my family want to wait for supper.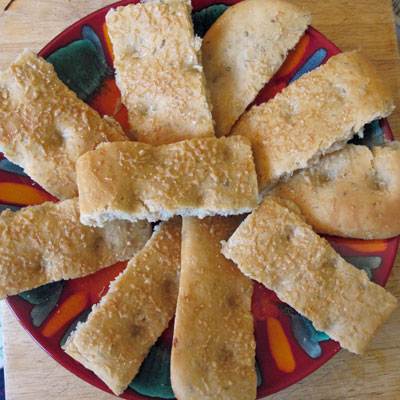 But of course, if you can par-bake pizza bases, why not Focaccia? (yes, I know that the supermarkets thought this one up a long time ago but it took me a while to think this one up!)
So here you are – two for the price of one – make ahead pizza bases and make ahead Garlic and Rosemary Focaccia. I tend to serve it with soup, or cold meats and salad. I've given the recipe for both below but if you just want to make the focaccia the quantities for that are in brackets.
Some Focaccia recipes have more water than this. I tried making it that way last week – it started off somewhat like a mountain of what felt like flour and water glue but after about 20 MINUTES kneading it became nicely elastic and not so sticky! I'm afraid that convenience won through and I have gone back to this version – just try not to add extra flour when kneading and knead on an oiled surface.
Garlic and Rosemary Focaccia and Homemade pizza bases
(Makes a large Focaccia and 4 pizza bases)
Ingredients
600g strong white bread flour (200g)
2 teaspoon quick dried yeast (1 teaspoon)
1 teaspoon salt (just under ½ teaspoon)
1 and ½ teaspoons caster sugar (½ teaspoon caster sugar)
3 tablespoons olive oil (1 tablespoons olive oil)
390mls hand-hot water (130 mls)


For the Focaccia:

2 teaspoons chopped garlic
1 teaspoon chopped rosemary with extra sprigs
Olive oil
3-4 tablespoons grated parmesan
Directions
If you're using the sort of yeast that needs activating add it to the water and leave to stand for about 15 minutes. If not add to the flour, salt and sugar in a large bowl
Pour the water and oil into the flour. Stir round to mix together. Leave to stand for 5 minutes or so
Knead for 5 – 10 minutes on an oiled surface till springy and elastic – put in an lightly oiled bowl in a warm place covered loosely with either cling film or a tea towel till doubled in size




Punch the dough down and tip out onto a floured board. Cut into thirds.


For the Focaccia:

Take one third of the dough, leaving the rest covered in the bowl. Flatten out the dough and sprinkle over the chopped garlic and rosemary. Roll up the dough to enclose the herbs and then knead gently for a few minutes until the garlic and rosemary is roughly distributed throughout.
Roll out to fit your (lightly oiled) baking tray (I use one 30cm x 20cm but only cover about ¾ of it). Leave the focaccia in it rising in a warm corner of your kitchen for about an hour, covered so it doesn't dry out on top.
When you want to par-bake, see below.


For the Pizza bases:

Cut the remaining dough into four equal sized pieces.
Heat the oven to 220ºC, placing your pizza stone or baking tray on the top shelf to heat up.
On a floured surface stretch / roll each piece of dough out into a circle, and then move each onto a piece of baking parchment. Leave to rest for 10 minutes or so while the oven is heating up.
When ready to cook, take the baking tray out of the oven and slide a pizza base onto it using the baking parchment (make sure it will take that heat), and cook near the top of the oven for 3 minutes. Take out and slide off the paper (but don't throw it away) onto a wire rack to cool. Repeat until all the pizza bases are cooked.
When cooled, stack between the sheets of paper and wrap up in foil / plastic freezer bag and either keep in the fridge if you're using them soon, or freeze.
When you want to eat them, add your favourite toppings – or try this Four Cheese Pizza which my husband was heard to describe the other day as 'possibly the best pizza he's ever had' – he's a cautious man!
To cook the Focaccia, let the oven cool to 200ºC. Place a small tray of water on the bottom shelf to create some steam.
Poke fingerholes in the top of the focaccia, brush with olive oil and cook near the top of the oven for about 10 minutes. Remove and cool.
Wrap the focaccia up well and store in the fridge for a day or two. I haven't tried freezing this yet, but will update this when I have.
When it's time to cook it, brush with more oil, sprinkle with rosemary and grated parmesan and cook at 220ºC until nicely browned on top and the cheese is melted.