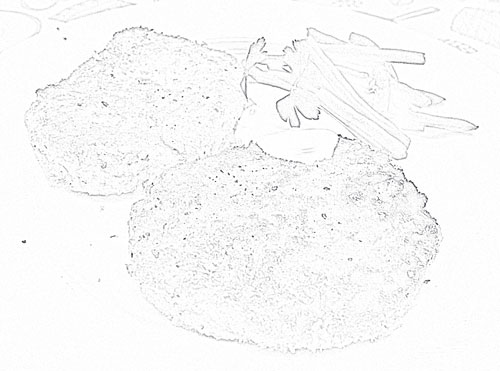 This picture may need a bit of explaining, but I need your help for this.
Close your eyes – no, that won't work – Wake up your taste buds and just imagine: a forkful of creamy fishcake … flavoured with smokey mackerel … with just an edge of horseradish … complemented by the rich lemon dressing … all mingling together in melt-in-the-mouth deliciousness.
Well, these Smoked Mackerel Fishcakes were surprisingly good – and hopefully you now don't need a photo to convince you! You see, the photos didn't come out so well.
It's not always easy being a food blogger, is it?
Let's face it, not only do you have to decide what to write about, you then have to develop a recipe that is so lovely you want to pass it on (a process that doesn't always go to plan). Then you have to present it looking so deliciously tasty that it's worth a photo. And then you have to dust off your photography skills and take stunning photos of it (whilst fending off your starving family who just want to eat it NOW)!
It's a good day for me when that all works.
So even though it was Wednesday that I stumbled across this cheap, oh-so-tasty recipe that had everyone clamouring for more, I have hesitated to post it as the photos didn't do it justice. Everyone (including me) was just too hungry so we were quick to give up and just EAT them. They were lovely, but if you want the recipe you will have to take my word for it. I will try again though next time we have them.
There are a number of recipes about for Smoked Mackerel Fishcakes and this is an amalgamation of several of them. It's probably nearest to this one. I've given the recipe as I have tweaked it a little and added a lemony mayonnaise dressing which complemented the smoked mackerel flavour beautifully. This was one of those recipes that was an instant success. As you've heard my family aren't afraid to say when they don't like something, but (fortunately) will also compliment the successes. I'm told this more than made up for the deeply unpopular fish curry last week!
If you're in a rush or just feeling lazy (not me ever) you don't need to egg and breadcrumb them. I think fishcakes taste fractionally nicer when crumbed so it's worth the extra effort.
If you want some other ideas of what to do with Smoked Mackerel have a look at this other post (Five ways with Smoked Mackerel).
Smoked Mackerel Fishcakes
(Serves 4)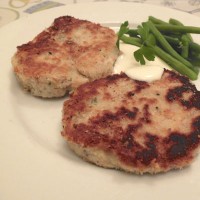 Cost: ~£3.77
Time taken: Under half an hour (+ half an hour chilling if you wish)
Family rating: ★★★★★
Ingredients
600g mashed potato
250g smoked mackerel fillet
1 tbsp chopped parsley
4 teasp creamed horseradish
Salt and pepper
1-2 eggs
About 8 tablespoons of flour
About 8 tablespoons of breadcrumbs
3 tablesp mayonnaise
3 tablesp natural yoghurt
juice from ½ a lemon
Directions
Skin and flake the smoked mackerel, removing small bones if you find any. Shred into small pieces and place in a mixing bowl.
Add the mashed potato, parsley, horseradish and some salt and pepper. Mix till all combined. Taste (it's all cooked now) and tweak the horseradish or seasoning if you wish.
Using large tablespoon-fuls, make the mixture into patties. You should have enough to make 8-9 quite large fishcakes.
Place flour, beaten egg (start with one) and breadcrumbs into 3 separate bowls. Dip each fishcake in turn into the flour, then egg, then breadcrumbs. Turning to ensure that each one is evenly covered. This is where you should put them on a plate, cover and place in the fridge for about 30 minutes to firm up before cooking. You can leave out this bit. The fishcakes are a little more fragile so may not end up perfect rounds (see my photos!), but if you're careful it's fine.
Make the Lemon dressing: Put the mayonnaise into a bowl and stir in a tablespoon of yoghurt. When combined add the rest of the yoghurt and lemon juice and mix together. Season with salt and pepper.
Put some oil into a frying pan and fry each fishcake for a few minutes on each side until golden brown.
Serve with the lemony dressing, and vegetables or salad
Costs:
~250g smoked mackerel (Sainsburys basics smoked mackerel fillets 250g for £1.99
600g mashed potato (Sainsburys basics potatoes 2.5kg @ £1.19 = 28p)
4 teasp creamed horseradish (Sainsburys horseradish 160ml @ 75p = 10p)
1 egg (Sainsburys free range eggs @ 22p each = 22p)
parley, flour, breadcrumbs, (guestimate ~ 50p)
3 tablespoons mayonnaise (Hellmans mayonnaise = 23p)
3 tablespoons natural yoghurt (Sainsburys Greek style natural yoghurt 500g @ 45p = 15p)
1 lemon (Sainsburys loose lemons @ 30p each = 30p)
Total ~ £3.77
(and add vegetables / salad of your choice).