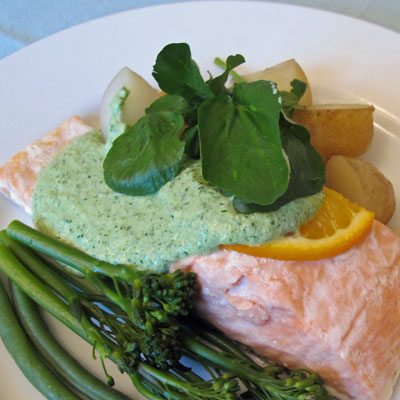 Salmon fillet is one of those foods that we all turn to for summer entertaining. Or – particularly when its on offer in the shops, as it is now – for quick suppers at home.
This is a really quick, easy, elegant recipe – just right for summer, and great for entertaining friends – especially on those evenings when you can't leave work till late, your friends are coming round at 8, AND you have to pick up the children AND go to the shops to buy food BEFORE getting home and turning the oven on. It takes about 20 minutes to make – or if you use the microwave it can take under 10.
Alternatively, you could always make it ahead and eat it cold.
And if you're still not sold on this idea – both salmon and watercress are on offer at Sainsburys at the moment – what more can I say?!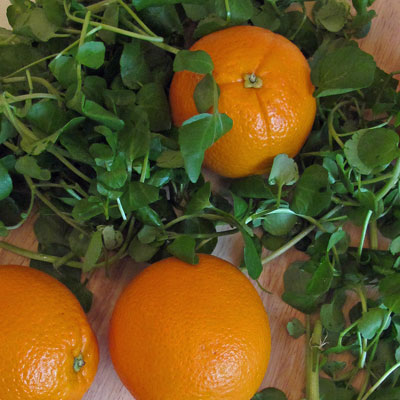 Salmon with orange and watercress sauce
(Serves 4)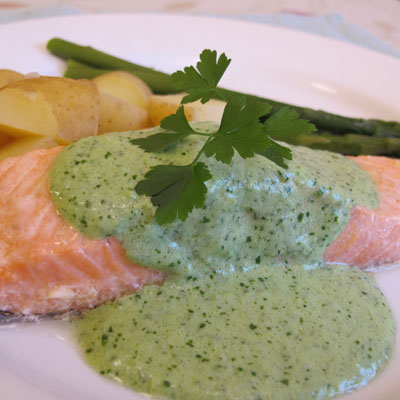 Ingredients
4 salmon fillets
a little butter
1 orange
200g tub half fat creme fraiche
75g bag of watercress
1 teasp cornflour
Directions
Wash and pat dry the salmon fillets and place in a roasting dish
Dot with butter and pour over the juice of 1 orange
Bake in the oven at 190°C for about 15-20 minutes until the fillet are cooked through
(If you're really in a hurry you can cook them in the microwave. I tend to cook for 3 minutes and then check – if not cooked through, heat again for another minute and check again – and keep heating a minute at a time until done)
Meanwhile wash and drain the watercress. Remove the thick stalks and put leaves into the food processor with the tub of creme fraiche – blitz until the watercress is chopped small
When the salmon is cooked remove from the oven and drain off the juices
In a bowl mix the cornflour with a small amount of the fish juices. Gradually mix in all the juices stirring as you go to prevent lumps forming
Add to the creme fraiche mixture in a saucepan and heat gently until the sauce is warmed through and a little thickened. Season with salt and pepper and serve with the salmon fillets.