OK – it's not really roast dinner season at the moment – but when faced with large amounts of ham to cook (and you can of course eat cold ham in any season) I got out my recipes for Roast Glazed Ham and dusted them off.
I always somehow feel that cooking a ham has an air of complexity to it that is somewhat off-putting. In fact it's pretty simple. Perhaps there are one or two more steps than putting your chicken in to roast and walking away until its done, but in all honesty, not many.
I cooked the first hams in a fairly traditional Honey and Mustard Glaze which was lovely, but my youngest did say that he wasn't quite sure about it. I couldn't decide if that was the cloves or the mustard so tried a Honey and Thyme glaze the next time. That was very sweet but was unanimously approved of (- well, my husband had thirds and my eldest was moved to spontaneously say 'Good Ham, Mum' – high praise indeed!)
Both recipes are below, so take your pick.
I've found that one 750g ham does two meals for us. Roast ham with mashed potatoes and veg on the first night gives us just enough ham left over to make Ham, Spring Onion and Cheese Quiche (or Ham and Sweetcorn Mini-quiches) the second night. Just a word of warning – if you're planning that combination make sure that you carve off the 'extra' and hide it before serving up the roast ham, so someone doesn't spoil your plans and eat it!
If you want some other ideas for what to do with the leftovers then have a look here.
Roast Honey and Mustard Glazed Ham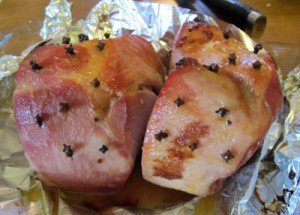 Ingredients
Two x 750g Unsmoked Gammon Joints
1 onion, peeled and quartered
2 carrots, peeled and coarsely chopped
1 teaspoon black peppercorns
2 bay leaves


Honey and Mustard Glaze:

4 tablespoons runny honey
2 teaspoons English mustard
About a dozen cloves


Honey and Thyme Glaze:

4 tablespoons runny honey
4 tablespoons orange juice
1 tablespoon demerara sugar
1 tablespoon fresh thyme leaves
Directions
Some gammons need pre-soaking, but not all – so follow the instructions on the packet
Take ALL the wrapping off, place the gammons in a large pot and just cover with cold water
Bring to the boil and simmer for 5 minutes. Pour off the water.
Fill the pan with water again to just cover the gammons. Add the onion, carrots, peppercorns and bay leaves to the pan. Bring to the boil and simmer for 30 minutes – skim any impurities from the top if necessary. Drain and place covered in a bowl.
Heat the oven to 200°C.
If there is a layer of fat on the gammons, cut off the skin / top layer leaving a layer about a centimeter thick. Score the fat diagonally, criss-crossing to make diamond shapes. Place the gammons in the middle of a large sheet of foil in a roasting tin.
Honey and Mustard Glaze: Place a clove in each diamond. Mix together the honey and mustard and spread all over the gammons.
Honey and Thyme Glaze: Mix together all the ingredients and smear the glaze over the gammon joints
Cover with the foil and roast for 40 minutes, basting at least once. Uncover for the last 15 minutes or so to allow the top to brown.
Remove from the oven, cover with the foil again, and leave to rest for 20 minutes or so before carving.
Serve with creamy mashed potatoes and vegetables.