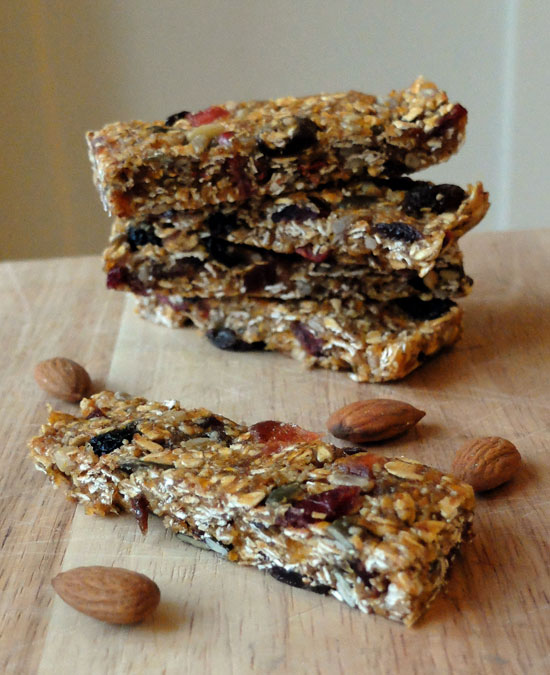 Spring is here! And with it, all things spring-like – sunshine, salads, Easter and…Spring-cleaning?
Well – maybe.
In the April No Waste Food challenge, the lovely blog JibberJabber UK encourages us all to spring-clean our cupboards and gather up all those bags of going-out-of-date things to see how we could use them up.
It seemed like a good idea. So I did.
And having spring-cleaned and gathered (ok – I confess there was more gathering than cleaning), I was left with a large pile of half-eaten assorted dried fruit, nuts and seeds. And a jar of runny honey that had been hiding at the back.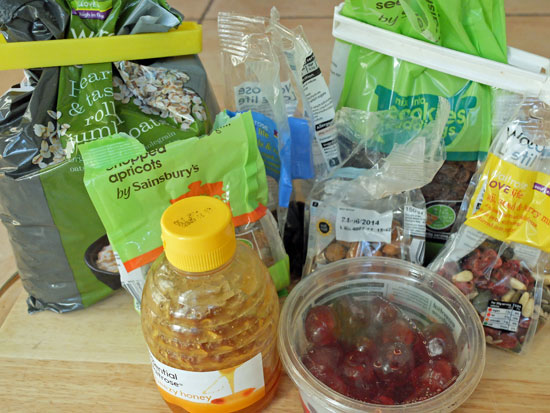 Clearly it was the moment to tackle a recipe for no-bake granola bars that I've been eyeing for a while.
'No-bake' is something that always catches my eye. It sounds, quick, simple and easy – all the things I like about a recipe. In fact this is not completely non baking as you do need to turn the oven on for toasting some of the ingredients. But the oven time is minimal.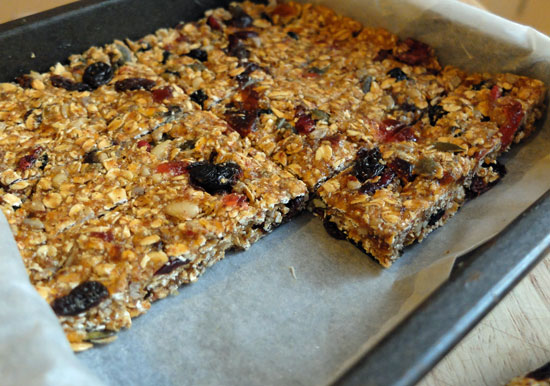 I've found Granola Bars a bit of a challenge in the past. Getting them to stick together seems to be a problem and I had several attempts that have ended up as more Granola than Bar, before I finally managed to crack it, so I wasn't sure how easy it would be to get the no-bake version to stick.
Other versions have used honey and some sort of nut butter as the 'glue'. I didn't have any peanut or almond butter – and I was also keen to see if I could do without. It's always good to know exactly what's in the food your serving up.
Luckily I found that a mixture of food processed dried apricots, together with apple juice and honey, seemed to do the trick. The end result shows absolutely no inclination to fall apart!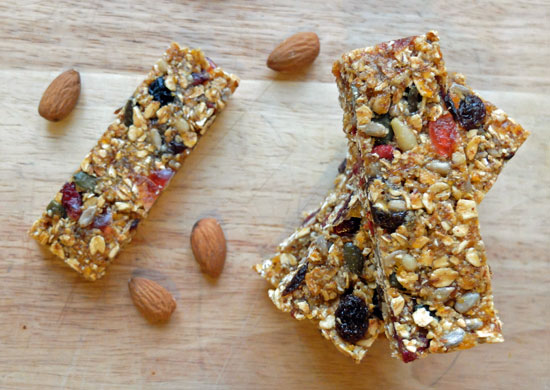 You could of course vary the ingredients as you wish if you prefer more nuts or oats for example. Just make sure that you have enough stickiness to keep all the ingredients together.
No-bake Oat and Seed Bars
(Makes 24 small squares)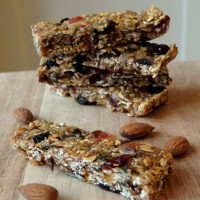 Ingredients
75g whole almonds (although you can make this with ground almonds and miss out one round of toasting if you wish)
80g chopped dried apricots (or you can use whole dried apricots
2 tablesp apple juice
100g jumbo rolled oats
4 tbsp runny honey in mixing bowl (~90g)
75g goji berry and seed mix
100g mixed chopped fruit – inc cherries, apricots and raisins (whichever you like) – chop the large pieces
a pinch of salt
Directions
Soak the apricots in a couple of tablespoons of warm apple juice (I put them together in a bowl for 30 seconds in the microwave and then left for about 10-15 minutes whilst toasting the other ingredients)
If you like your almonds toasted: Spread out the almonds on a baking tray and toast for a few minutes at 200°C (careful as they burn quite easily) before blitzing them in the food processor (I made them as fine as possible, but you could leave some of them in bigger chunks for a different texture). Empty into a bowl.
Spread the oats on a baking tray and toast in the oven at 200°C for about 12 – 15 mins until beginning to brown.
Put apricots and juice in the processor and blitz till as fine as possible. Add almonds and pulse again.
Put honey into mixing bowl. The runnier the honey is, the easier the next stage is, so you just need to warm it a bit. The best way I've found to do this is to put the mixing bowl in a shallow dish filled with a couple of inches of just boiled water and leave it there for a few minutes. Or you can heat it in the microwave for a short while (30 secs). Add apricot and almond mixture and stir well.
Add in toasted oats, seed mixture, chopped dried fruit. Mix them all together – you might find it easier to use your hands.
Once combined press the mixture into a lined baking tray (18 cms square) and chill either in fridge for 1-2 hours or in freezer for 30 minutes. Cut into small squares.

I'm entering this into a few blog challenges.
No waste food challenge run by Elizabeth of Elizabeths Kitchen diary and hosted this month by Ness at JibberJabber UK – thank you for the inspiration!

As I used up all of those half empty packets of nuts, raisins and seeds (but you could vary it as you wished / according to what you have) I am linking to Credit Crunch Munch hosted by Camilla of Fab Food 4 all this month and co-hosted by Helen at Fuss Free Flavours.

And lastly to April's Family Foodie Event which is Healthy snacks. Hosted by Louisa at Eat Your Veg and Vanesther at Bangers and Mash.