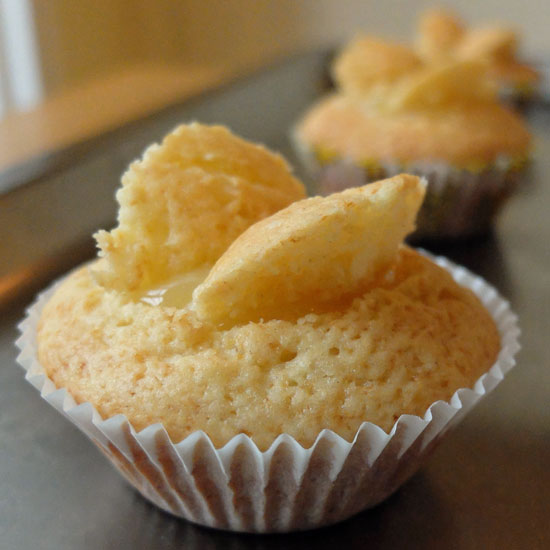 I still think it's hard to beat fairy cakes if you're looking for the perfect sized cake.
I know we've been making all sorts of other size cakes in recent years – triple layers, cupcakes piled high with frosting, cake pops, mini-layer cakes – the list goes on.
The problem is, that while each of them has their advantages, they also have disadvantages – triple layers look luscious, but consume a whole slice and you probably won't want much more to eat for the rest of the day – cupcakes piled high with frosting are delicious (but too much frosting!) – and cake pops are small enough to swallow almost without noticing.
Fairy cakes are possibly just about perfect. Just big enough to satisfy my sweet-toothed cake craving, but small enough not to upset the diet too much!
So these are lemon curd fairy cakes – delicious mouthfuls of moist, zesty lemon cake, topped with either lemon curd or crunchy, sticky lemon drizzle. But you can of course make them any size you like – just change the cooking time.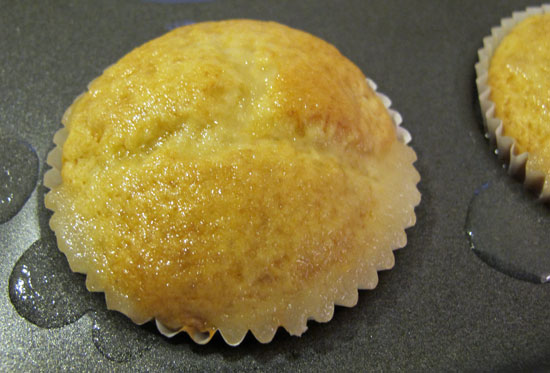 They're made with lemon curd yoghurt which seems to keep them lovely and moist. I have to be honest, as we haven't yet had a batch last longer than a couple of days in this house, I don't know how long it keeps them lovely and moist for.
I guess that's the disadvantage about fairy cakes – they go down very easily, and my sons (like most teenagers probably) can inhale a couple of these without really noticing!
One of the best things about these little cakes is that you can put them together in minutes. Possibly no longer than it will take you to read how I made them.
Lemon Curd Fairy Cakes
Heat the oven to 200°C. Mix together the melted butter, lemon zest and caster sugar.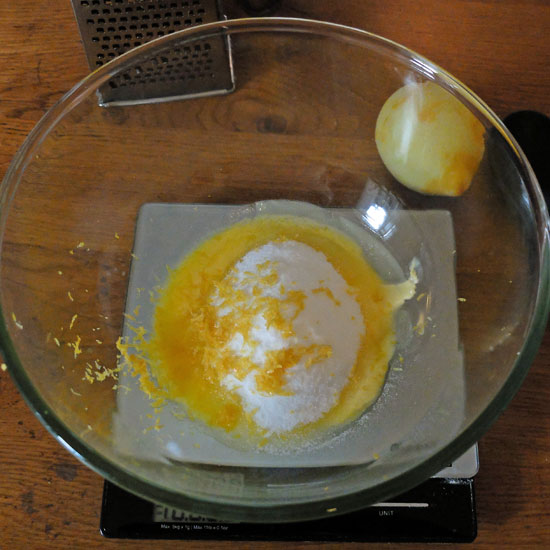 Add all the other cake ingredients and stir till just combined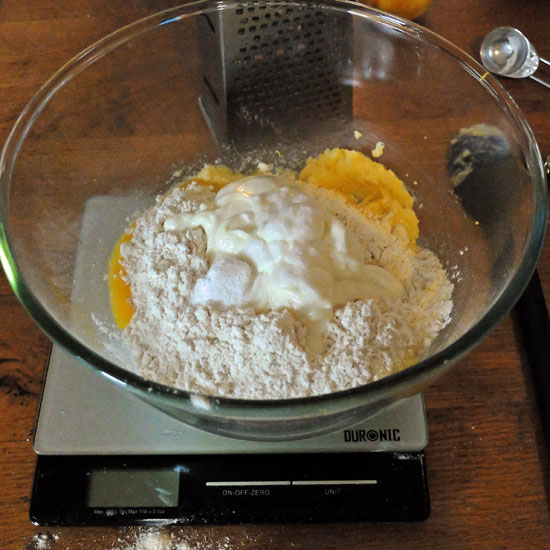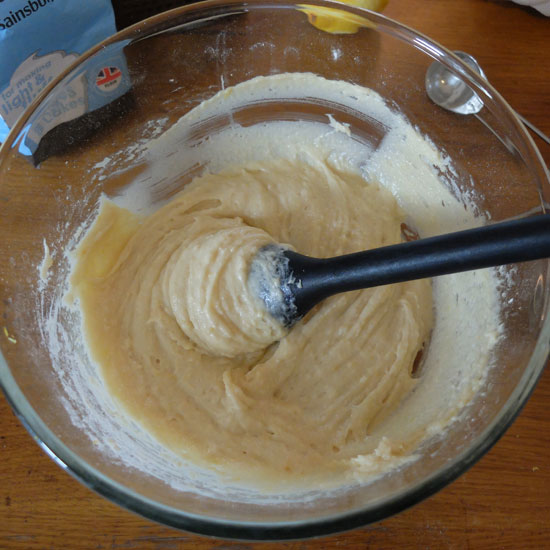 Line a 12 hole bun tin with cake cases and fill each ⅔rds full. Then watch them cook for exactly 15 minutes.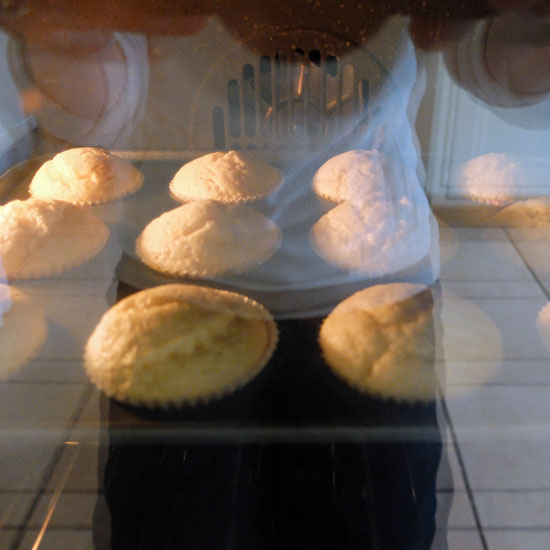 It's like magic isn't it?!
And now – choose your topping? Lemon Curd? …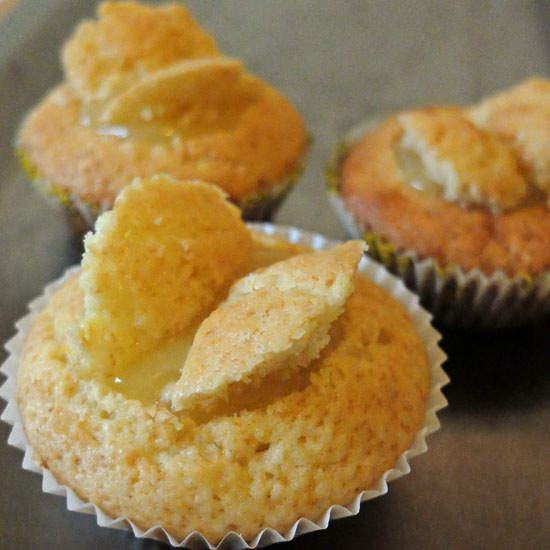 The lemon curd does give them a real tangy lemon kick – my eldest son (who is a fan of all things lemon-y) loves them.
…or Lemon Drizzle?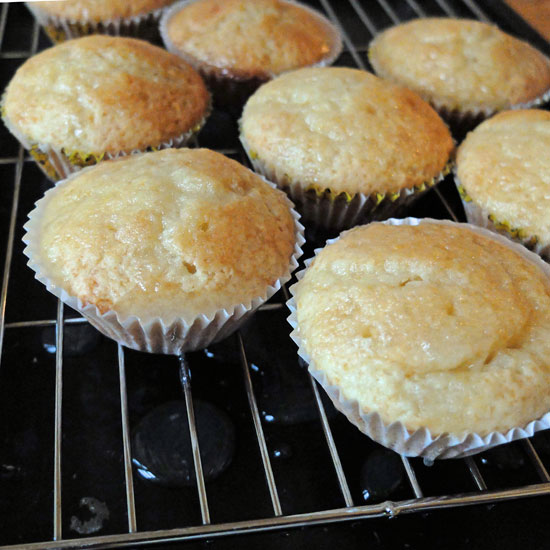 The lemon drizzle topping gives just the right balance of lemon and sweet – crunchy topping and moist lemon sponge – perfect!
There are a few tips for the best way to make lemon drizzle…er…drizzle
Don't over-fill the cake cases or the end result will be too domed and the drizzle will just run off
Make sure the cakes are still warm so it needs to be within 5 or 10 minutes of taking them out of the oven
I also heat up the lemon drizzle (30 secs in the microwave) to make it more runny
Pierce holes in each cake right the way down to the bottom (but not through the paper case!)
Use a mixture of caster sugar (or granulated sugar) and lemon juice – the idea being that the sugar stays on top whilst the lemon juice drips into the holes you've made
Pour drizzle over in dessertspoonfuls spreading it over the holes
Allow the first layer to sink in before repeating – I did three layers but you may want less (or more!)
Lemon Curd Fairy Cakes (Mini Cupcakes)
(Makes 14)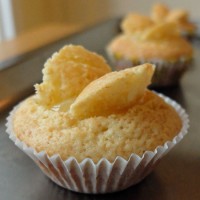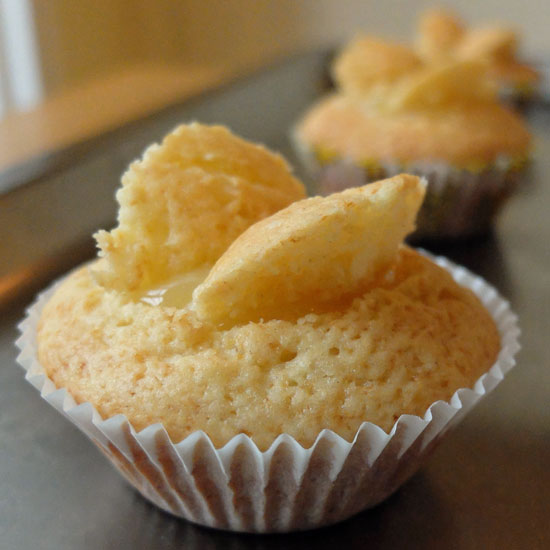 Ingredients
For the cupcakes:
150g Lemon Curd Yogurt (I used Waitrose)
50g butter, melted
100g caster sugar
1 egg
zest of 1 (unwaxed) lemon
150g self-raising flour
1 teasp baking powder
a pinch of salt
and for the drizzle:
Juice of 1 lemon
100g caster sugar
Or:
~14 teaspoons of good quality lemon curd (either shop bought or home-made)
Directions
Melt butter – put in a microwaveable mixing bowl and microwave for 1 minute.
Add the sugar and lemon zest and cream together.
Add all the other ingredients and stir till just incorporated
Put cupcake cases in a 12 hole bun tin. Fill each ⅔rds full with mixture
Bake at 200°C for 15 minutes until browned on top and a skewer inserted into the middle of a cake comes out clean.
For the drizzle – place the caster sugar in a bowl and add the juice from the lemon. Taste to make sure it is the right level of sweetness for your taste. Pour over whilst buns still warm (see tips above).
For lemon curd butterflies – allow the cupcakes to cool and then slice off a circle of cake. Fill the cavity with just enough lemon curd to fill it. Cut the lid in half and arrange as butterfly wings. Dust with icing sugar.
As these are made with lemon curd I've linked up to April's Teatime Treats challenge hosted by Karen at Lavender and Lovage this month and co-hosted by Janie at the Hedgecombers – the theme this month is Jams, Curds and Preserves.