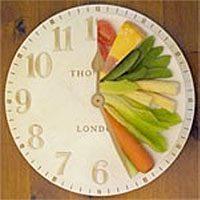 One thing I've learned in my cost-cutting efforts is that if you want to make things cheaply it usually means cooking from scratch. Or, at least, cooking more from scratch than you did before. And that of course often takes longer.
Time hasn't been much of an issue for me in recent weeks having been off work. But I'm hoping to be able to go back soon and I know that for the first few weeks while I get used to the usual routine, it's going to be difficult fitting everything in.
So I'm trying to enlarge my collection of quick budget recipes to try and lighten the load and minimise time spent in the kitchen.
Some of our favourites are:
So we'll have those this week with:
Lamb-burgers – still in the freezer from a couple of weeks ago
And then we'll try some new quick and cheap recipes:
Or if you want to have a look at some other recipes I've found on the internet for meals that take less than 30 minutes and won't break the bank then have a look here – I haven't tried them or costed them as yet – but they might give you some more ideas!
What are your favorite quick budget recipes??
As usual I'm linking up to Mrs M's meal planning monday where you can find lots of other ideas for lovely meals.
Have a good week!