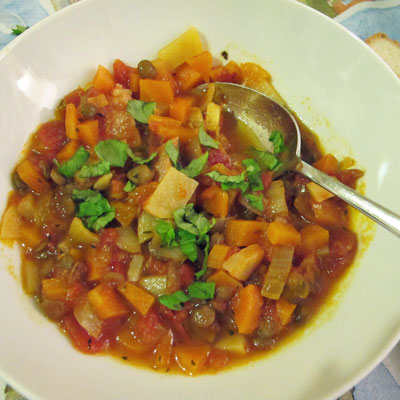 This Ham and Lentil Stew recipe came out of a wish to use up a ton of cooked ham I had sometime last year.
It is warm and comforting and substantial enough to serve up for a weekday supper and not leave anyone feeling hungry.
Also, surprisingly, my family (who don't always welcome suppers that aren't meat-and-two-veg) like it and went back for second (and third) helpings.
And it's quick to make – so everyone's happy!
Ham and Lentil Stew
(Serves 4)
Time taken: 30 mins
Total Cost: £2.45
.
Ingredients
1 medium onion, peeled and chopped (8p from Sainsburys basics onions 1.5kg)
3 medium carrots (~250g), peeled and diced (18p)
2 medium potatoes (~350g), peeled and diced (28p)
1 tin chopped tomatoes (34p)
750mls vegetable stock (4p)
100g cooked lentils (I used green lentils – 22p)
150 – 200g cooked ham cut into chunks – I had frozen pre-cooked ham in 200g packets so used that amount which turned out to be generous (£1.11)
½ teasp dried basil
½ teasp dried thyme
1 tablespoon chopped parsley (optional)
oil for frying

(guestimate 20p for last 4 items)
Directions
Fry the onion in a little oil until softened.
Add the potatoes, carrots and herbs and stir over the heat for a minute or two.
Add the tomatoes, ~500mls vegetable stock and simmer for 15-20 minutes, adding more stock as necessary, until the lentils and veg are cooked.
Add ham and the cooked lentils and stir in for a couple of minutes to heat through. Taste – season with black pepper (the ham probably has enough salt).
Serve with deliciously warm, crusty bread.