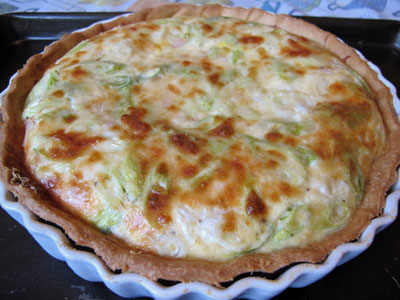 This is a lovely recipe for using up leftover ham (and if you saw the post last week you will know that we have quite a lot of ham to use up!). The ham and spring onions seem to complement each other beautifully in the creamy cheese.
Even better, it's not too expensive – £3.23 for 5 / 6 servings was what it cost us, using leftover ham from last weeks roasts.
Quiches are of course, often made with cream but I've made this with milk. I can never quite bring myself to use too much cream in everyday food, and this 'low-fat' version was creamy and tasty enough for us.
It's not a quick meal – although you can cut down on time by using ready made pastry. But if you plan ahead and blind bake the pastry case beforehand, the quiche preparation takes only about 10 minutes. Then you can relax and do something else whilst it bakes in the oven.
The recipe was inspired by one I saw on the BBC GoodFood website a while ago, that is no longer on the site.
Ham, Spring Onion and Cheese Quiche
(Serves 5 – 6)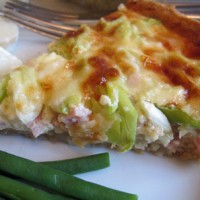 Ingredients
Shortcrust pastry – either ready made or made as here with 200g plain flour and 100g butter or margarine
150g cooked ham, diced
2/3rds bunch of spring onions, thinly sliced
75g grated grana padano cheese
200 mls milk (semi-skimmed or whole milk)
3 eggs
Directions
Roll out the pastry to a circle about 5cms bigger than your quiche tin (I used a 24 cm flan dish).
Using the rolling pin, lay the pastry over the flan dish. Push gently down into the 'corners', trim the edges with a sharp knife and prick the base with a fork.
Cover with baking parchment, fill with baking beans and bake blind at 200°C for 20 minutes. Then remove the beans and paper and cook for another 5 minutes or so, until it is a pale beige / biscuit colour
Sprinkle half the cheese evenly over the pastry base, then scatter over the chopped ham and spring onions.
Beat together the eggs and milk, season with black pepper and pour into the pastry case. Scatter the remaining cheese over the top.
Bake in the oven for about 45 minutes at 180°C until the quiche is set and cheese is browning. If the top darkens before it is cooked through, cover loosely with tinfoil. Eat hot or cold
And for the cost:
200g plain flour (Sainsburys basics plain flour = 9p)
100g margarine (Stork margarine = 28p)
125g chopped ham (leftover from roast ham = 64p)
&#8532 bunch of spring onions – white parts sliced thinly (Sainsburys spring onions = 50p)
70g grated grana padano (Sainsburys own = 94p)
200 mls milk (either whole milk or semi-skimmed) (Sainsburys West country fresh milk 2.27l = 12p)
3 eggs (Sainsburys free range Woodlands medium eggs = 66p)

Total Cost = £3.23 (5 – 6 servings)

As I was using leftover ham and some leftover spring onions that needed using I have linked this up to the Turquoise Lemons No Waste Food Challenge that is being hosted by Elizabeths Kitchen Diary this month