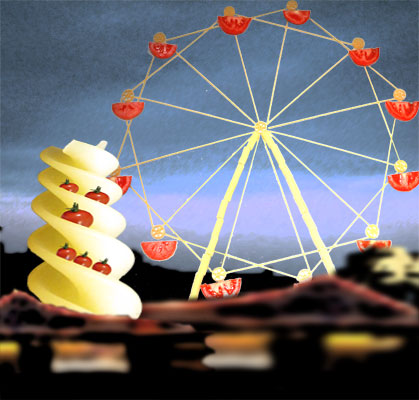 I guess this is a rather strange picture for a recipe – but I can't imagine that my picture of fresh tomato sauce would be any different from anybody else's! (And don't you think that fusilli looks like an old fashioned helter-skelter close up?)
Anyway – I had some fun with photoshop. At least my children think its cool. My eldest has suggested trying to animate it – now that would be a challenge! But maybe that would be going a bit far …….. ?
I was going to put this recipe in an earlier post, but somehow got distracted (blame photoshop). It is one of the quickest I know, and rewards the surprisingly short time you spend on it with a very tasty result.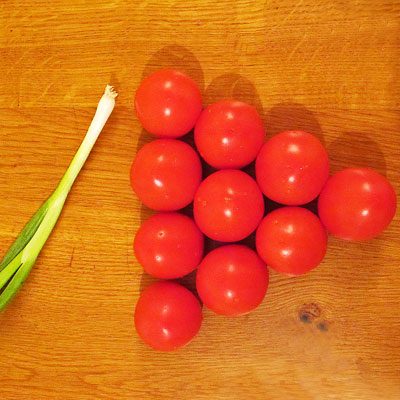 Its worth trying to use really ripe tomatoes. Serve it with crusty french bread and a green salad.
Here's the recipe – I hope you enjoy it – Oh, and here's a picture too!
Fresh Tomato Pasta Sauce
Serves: 4
Fridge-to-Table Time: <20 mins
Ingredients
1 red pepper
Approximately 12-16 ripe medium tomatoes, depending on how hungry you are
olive oil (~2 tablesp)
1 tablesp balsamic vinegar
A bunch of spring onions (optional)
200g feta cheese
~10 fresh basil leaves
Pasta for 4 (fresh makes this quicker)
Method
Fill a large saucepan with water ready for the pasta. Cooking the pasta is probably the rate-limiting step with this recipe so get that on as soon as you can.
Wash the vegetables.
Turn the grill onto high and then deseed and roughly chop the pepper. Put the pieces in a roasting dish and drizzle with oil.
Place under the grill for 3-4 minutes whilst you get on with preparing tomatoes. Keep an eye on them just to make sure they don't start to singe.
Quarter the tomatoes, and slice the spring onions (white parts only).
Put the pasta into boiling water when ready.
Remove the peppers from grill. Add the tomato halves, spring onions, a little more olive oil and balsamic vinegar and stir all together ensuring that everything ends up spread out evenly over the tray in one layer. Return to the grill for another 7 minutes or so until the tomatoes soften.
Meanwhile, chop the basil leaves, chop/crumble the feta into small pieces and mix both together.
When the vegetables are ready remove the tray from grill. Mash the tomatoes a little using a potato masher to release the juices. Scatter over half of the feta/basil mixture and return to the grill with the heat turned off, just to keep warm whilst the pasta finishes cooking.
Drain the pasta and serve with sauce, with the remaining half of the feta mixture to scatter on top, warm crusty bread and a green salad