I know there are lots of banana bread recipes, but my family seem especially keen on this one. The preparation for this is about 10 mins, and then you can sit back and put your feet up for an hour or so while it cooks, before enjoying beautiful, melting banana bread straight out of the bread maker (or oven)!
It's a good recipe for using up over-ripe bananas – in fact, its best made from those that are a bit past their best.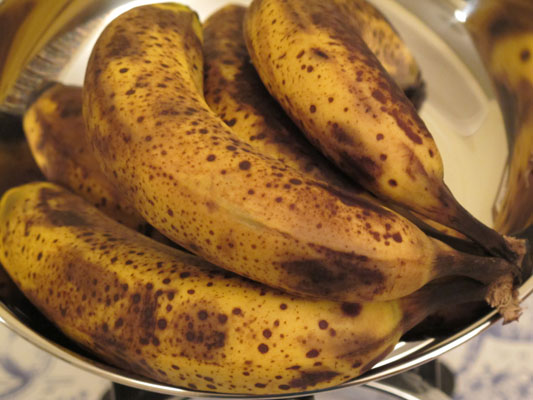 You will need:
225g plain flour
100g soft brown sugar
1 dessertsp baking powder
1 teasp ground cinnamon
pinch of salt
2 medium eggs
100g butter, softened (I usually give it 30secs in the microwave)
1 tablesp milk
a few drops extract of vanilla
4 medium / 3 large ripe bananas, broken into aproximately 1 inch chunks
150g raisins
Method – if you have a food processor…
Put the first 4 ingredients into the bowl, and then add all the rest apart from the raisins. Whizz until mixed.
Pour into a bowl with the raisins and mix well.
..if you don't have a food processor
Stir the butter and sugar together in a bowl, until creamy. Add the eggs and continue stirring until well mixed in.
Then add the vanilla, milk and mashed bananas and stir well.
Gradually mix in the flour, cinnamon, salt, and baking powder. Stir well. Finally mix in the raisins.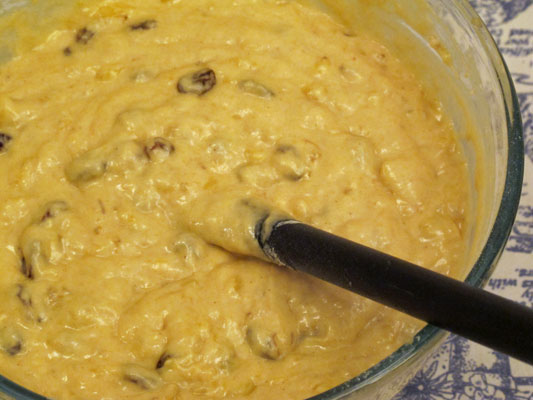 I usually cook this in the bread maker. You should follow the instructions for baking in your machine. Mine suggests lining the bottom of the bread-making tin with a layer of baking paper so it will turn out easily when done (take the mixing paddle out first!). Pour in the mixture (which as you can see is fairly gloopy), and then bake in the bread maker for 1 hr and 8 minutes.
If you don't have a breadmaker, then cook the bread in a greased 2lb loaf tin at 180.C for about 1 hr to 1hr and a quarter (a skewer poked into the middle should come out clean if cooked).
And then all you have to do is eat it!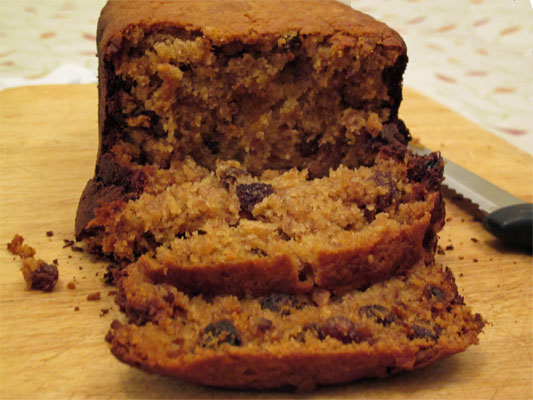 It usually gets eaten as soon as it is anywhere near cool enough. If you try and slice it then it's all gooey and crumbly (as you can see!) but it tastes delicious with butter melting on top.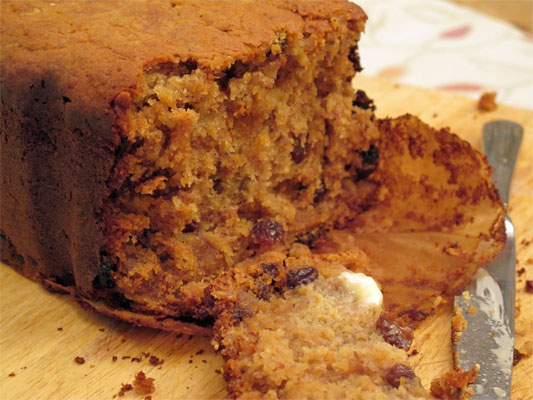 The problem is – it doesn't last long!….