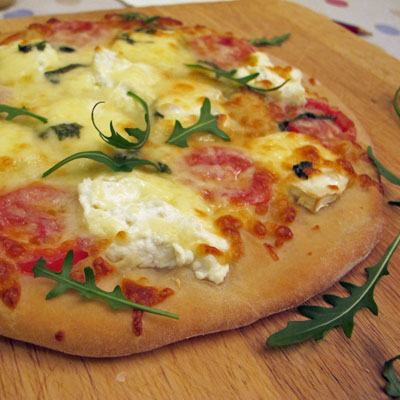 People have apparently been making Pizzas for centuries, and you can see why can't you? Easy, cheap and ever popular with children – who could ask for more?
And to top it all – homemade pizza is the ultimate convenience food.
Really.
Ok, they do need a little preparation. But once you have the part baked pizza bases frozen in your freezer, all you have to do when you want supper is:…….take out of freezer…….unwrap……….layer on the toppings………….cook for 10 mins…………….oh, and of course, eat…….and enjoy!
Freezer to table time is probably about 20 minutes (unless you're feeling really indecisive about what you want to put on top). Pizza tends to come round quite frequently in our weekly meals.
So if you haven't discovered the ease of homemade pizzas – read on! Think of it – you're serving up something quick, homemade, so you know EXACTLY what has gone into it, and it is guaranteed to be a winner at the supper table (who doesn't like pizza?).
It does of course depend on you having some pizza bases in the freezer that you've already made. They tend to take a couple of hours to make (although a lot of that time is waiting for the yeast to work its magic), so I tend to make them when I'm doing other things in the kitchen such as cooking the Sunday dinner. If you don't have any then Naan breads can make a pretty good substitute – grill one side till warm – flip over, top and grill again until cheese is golden and bubbling.
Four Cheese Pizza
(Makes 4 pizzas)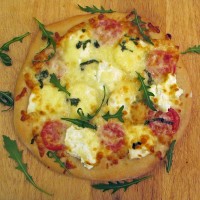 Ingredients
400g Strong White Bread Flour
1 teasp dried yeast (I used the type you use for bread makers)
¾ teasp salt
1 teasp caster sugar
260 mls hand hot water
2 tbsp olive oil
4 tomatoes, sliced
Fresh basil leaves, shredded
I used Goats cheese, Ricotta, Grated mozzarella and Parmesan – but use any other cheese that you like: brie, cheddar, camembert etc
Directions:
First make the pizza dough.
When bases are ready – part bake them: Cook on a pre-heated baking sheet / pizza stone at top of oven at 220ºC for 3 minutes.
Cool on a wire rack. Layer between sheets of baking paper or tin foil, wrap and freeze.

When you want to eat:

Arrange sliced tomatoes, sliced cheese and finely chopped basil leaves over frozen pizza base.
Cook at 220ºC on preheated baking tray / pizza stone for about 10 minutes until the crust is golden and the cheese is melted and bubbling.