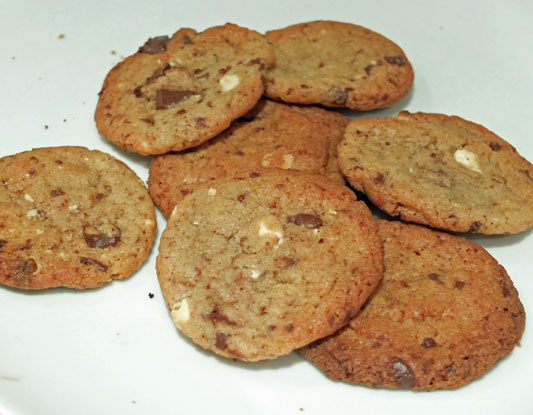 How do you spend your holidays?
We enjoy cycling and walking and as we had a few days off over New Year were hoping to get out. As you may well know the weather has been terrible, so it was inevitable, I guess, that this plan wasn't going to work. But that didn't stop us being disappointed when we woke up a couple of days ago to yet more rain.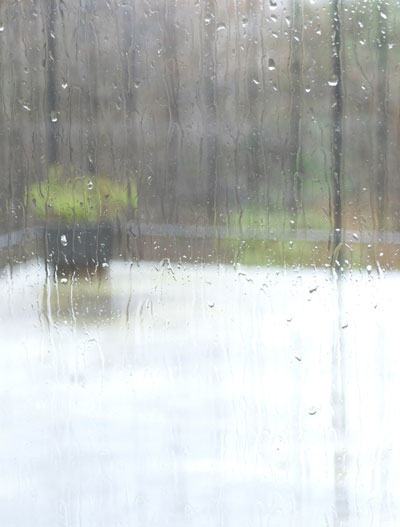 I have to admit that I don't much enjoy cycling in the rain, so we had a long leisurely breakfast to see if that would change anything …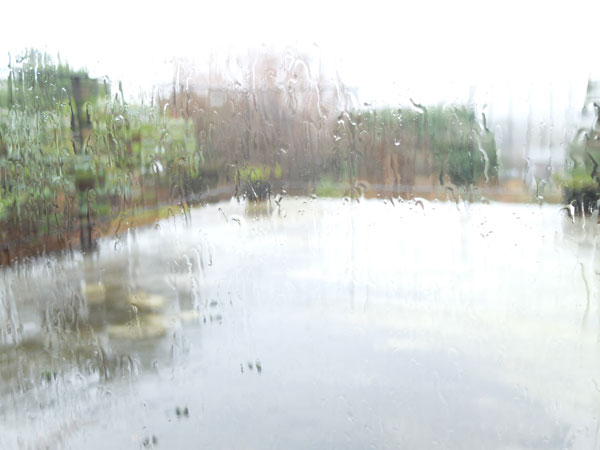 Ah well.
Baking seemed like a reasonable alternative in the circumstances. Something warm and chocolate-y and comforting to console ourselves with and make us feel more inclined to go out next time to cycle off the calories. Of course, holiday homes aren't the best places to start a baking project – no recipe book, no weighing scales and limited equipment were our main problems. Cookies seemed to solve the problem of no cake tins – Chocolate Chip Cookies to be precise. Baking Son was sure he could remember the recipe, so the only remaining problem was no weighing scales.
American recipes measure ingredients in 'cups' so that was one possible answer. Rummaging through the cupboards we found a measuring jug but sadly this only measured in mls and fl ozs – so could we work out how many mls of flour would equal 250g??
Well yes it is possible and if you ever need to know the answer (or at least our answer) 250g flour is about 445 mls and 250g brown sugar is 300 mls.
But – of course – the easiest answer is to buy a 500g bag of brown sugar and plain flour and use half of each (and I really don't want to tell you how long it took us to think of that one!)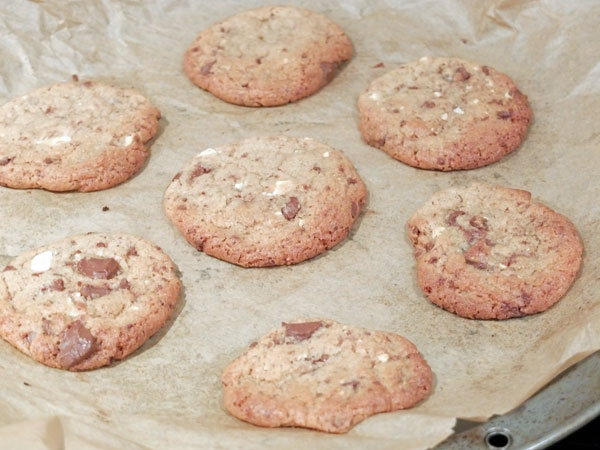 And in case you were wondering, the cookies were everything we'd hoped for – warm from the oven with a crunchy outside and slightly chewy centre.
Here's the recipe. Remembered from a book we have at home which is called 'Baking' and is from delicious. magazine
Chocolate Chip Cookies
(Makes ~28)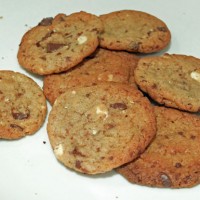 Ingredients
125g butter
250g soft brown sugar
250g plain flour
1 egg
1 teaspoon of baking powder
few drops of vanilla extract
150g mixed chocolate – we used a mixture of white and dark
Directions
Heat the oven to 180°C
Soften the butter in a mixing bowl
Add the sugar and cream together. Add the egg and mix
Sift the flour into the mixture and stir in. Also add the baking powder, vanilla and the chocolate chips.
Line a baking tray with baking parchment. Put dollops of cookie mixture (about a large teaspoonful) well spaced apart, and cook in middle of the oven for about 10 minutes until lightly browned. Make sure you don't overcook them – even by a couple of minutes – or you'll lose that chewy center.
Leave to cool for 15 mins of so and then peel off the baking paper. If they still stick, leave them to cool for a few more minutes. Best eaten warm, sitting inside gazing out at the rain!