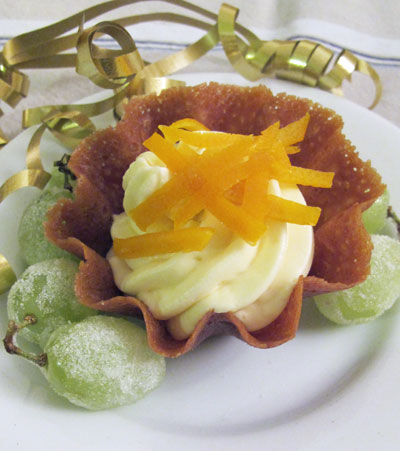 Well, Christmas is finally over, and I hope you had a good day?
I love it when Christmas Day finally arrives. A day with the family is always fun, but there's also the delicious realisation that there is no more preparation that you can do. The shops are shut, the fridge and freezer are full to bursting, all the presents are wrapped (even if you had to stay up till 1 in the morning wrapping them!), and anything you've forgotten just has to be done without!
The days between Christmas and New Year are fun too. The pressure is off and its a perfect time for relaxed entertaining.
This isn't really the time to be trying new recipes but these lemon creams are really simple – a delicious mix of velvety lemon cream and crisp gingery brandy snap that literally just melts in the mouth. They are more of an assembly job than a real recipe, which makes them just about perfect for serving up if you're entertaining friends and you need something that doesn't take much time.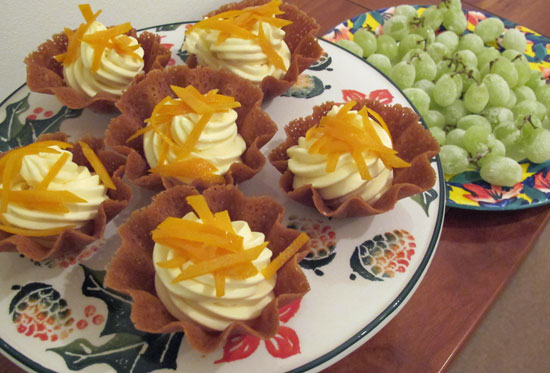 Whilst you can make these puddings from scratch with your own home-made lemon curd, they really don't suffer much if you buy the component parts ready-made and assemble at home. The recipe here gives you enough mixture to divide into 6 individual ramekins – serve with brandy snaps or lemon shortbreads. Or, for a more 'retro' look use brandy snap baskets as I've shown here. They use slightly less mixture than the ramekins so you will have some left over to finish the next day (shame!). Just don't assemble them too far ahead if you're using baskets as they will go soggy.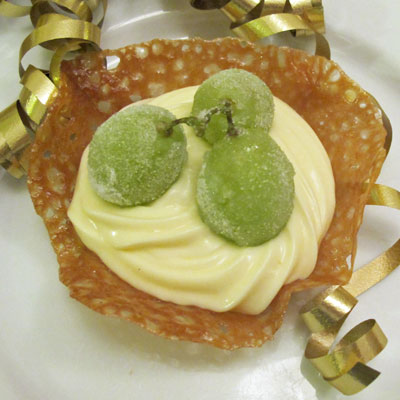 You can change around the fruit too. I've used candied peel and grapes, but we had to have frosted grapes as making those on Christmas Eve is one of our family traditions. Or you could try blueberries or raspberries when they're in season.
Happy New Year!
Lemon Cream Brandy Snap Baskets
(serves 6)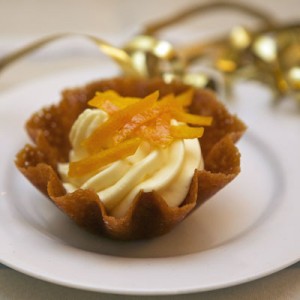 Ingredients
6 Brandy snap baskets
(buy ready-made or make them according to a recipe such as this and make the 'baskets' by molding the brandy snaps over the bottom of a small cup or ramekin)
450 mls double cream
About ¾ of a jar (~325g) of really good lemon curd (I used Waitrose seriously zesty lemon curd)
Frosted grapes or strips of candied peel to decorate
(either make your own – or you can buy it ready-made for the 'convenience' version of this recipe)
Method
Whip the cream until slightly thickened
Add about ¾ of the jar of lemon curd to the cream and whip again briefly. The cream thickens up when you add the lemon so you shouldn't need to whisk much. Have a quick taste to see if you would prefer it more lemony and add more lemon curd if you wish.
Fill the brandy snap baskets with the lemon cream. I find this easiest to do using a piping bag with a fairly wide nozzle – or spoon it in carefully.
Decorate with strips of candied peel – home-made or shop bought.