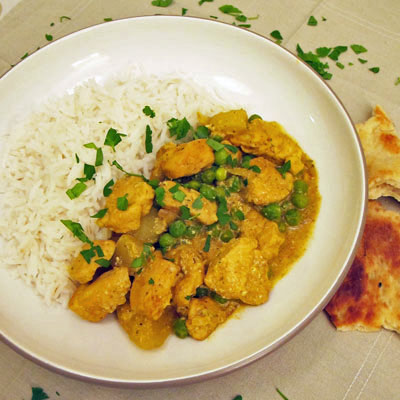 This is one of our family standbys – simple, reasonably quick and not expensive. I've cooked it for years and it's always popular – a good solid four star meal.
So having packed Student Son off to Uni after a Last Meal of Roast chicken with all the trimmings, it was somewhat inevitable that I would make this with some of the cooked chicken we had left over.
It's a bit difficult to cost it accurately if you're using up chicken leftover from a roast (how much meat is on a 1.45kg chicken??), but however you look at it, using only 200g chicken and loads of vegetables, it's a fairly inexpensive meal for 4.
Chicken Kurma
(Serves 4)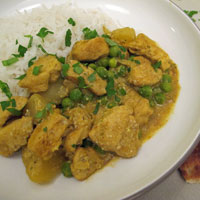 Ingredients
1 medium onion
1 clove garlic, chopped
2 dessertsp kurma curry paste (I used Patak's)
about 200g cooked new potatoes, halved
1 small cauliflower, separated into florets (about 400g when prepared)
200g cooked chicken
150g frozen peas
400mls chicken stock
2-3 tablespoons of natural yoghurt
Directions
Peel and dice the onion. Fry in oil with the garlic over a medium heat for about 5 minutes until soft.
Add 2 dessertspoons of curry paste and stir over the heat for a minute or so.
Add the cauliflower florets and stir until all are covered in the curry paste.
Pour in chicken stock to just cover the vegetables and simmer for 7-10 minutes until almost cooked.
Add the peas, potatoes and cooked chicken and cook for a further few minutes until everything is cooked through.
Stir a couple of tablespoons of natural yoghurt into the sauce and serve with rice / naan breads.