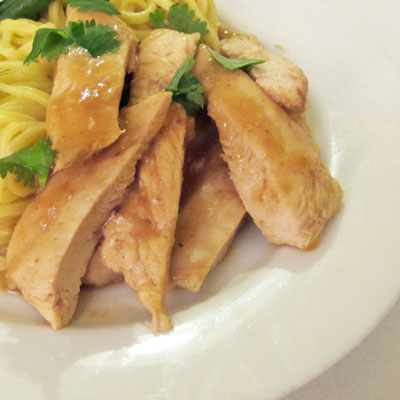 I thought it was time for an 'everyday' recipe this week. Wall-E cakes are all very well but (I have to be honest) the preparation time was measured in days rather than minutes! So, lets return to simpler fare with this quick evening meal.
This recipe was inspired by one that I saw on TV years ago. It's one of my favourites at the moment – it doesn't take too long to prepare, everyone likes it (in my house) and it has a lovely surprising flavour. Fresh lime juice cuts through salty soy sauce to complement the meltingly tender chicken perfectly. And all on the table in less than 20 minutes if you marinade the chicken the night before!
I hope it works for you too.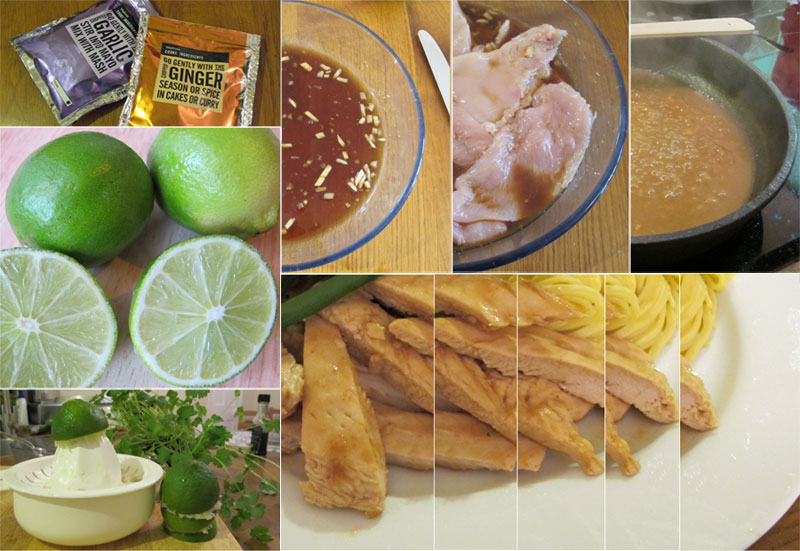 Chicken in Ginger and Lime
(Serves 4)
(Fridge to Table time – about 30 mins – but allow longer for marinading if you can)
You will need:
4 chicken breasts
Juice of 2 limes
3 tablesp of light soy sauce
1 teasp chopped garlic
1 teasp chopped ginger
Oil
1 dessertspoon plain flour
200mls chicken stock
Enough egg noodles for 4
Method
Put the juice from 1½ limes, 2 tablespoons of soy sauce, the garlic and ginger in a bowl and mix.

(To cut down on preparation time I use chopped frozen garlic and ginger which you can buy from some supermarkets.)

Lay the chicken breasts on a chopping board between layers of plastic (a plastic freezer bag works perfectly) and beat flat with a rolling pin. It's a good way to work out the frustrations of the day but go a bit gently as you can beat so hard that you go through them! Aim to flatten them to about 1 cm thickness, and then cut into manageable size pieces.
Place chicken pieces in the marinade, spoon the liquid over all the chicken, cover and leave for as long as you can (either 10 minutes if you're eating them tonight or put in fridge to cook the following evening if you can).
Heat a little oil in a frying pan and fry the chicken pieces until cooked all the way through (this only takes a few minutes on each side). You may have to do this in batches – add more oil as necessary. Put on a separate dish when cooked and keep warm.
Boil some water in a pan and cook the noodles according to the directions on the packet.
When all the chicken pieces are cooked, add 1 dessertspoon of plain flour to the juices in the pan and stir until mixed for a minute or two. Remove from the heat and add a little of the chicken stock stirring well until all blended in. Add the rest of the stock little by little and then finally add the remaining lime juice and 1 tablespoon soy sauce. Stir over the heat until boiling and nicely thickened.
Slice the chicken pieces into strips and serve with the noodles and sauce poured over.
Alternatively…
…if you just want something you can put in the oven and forget for a while…
Marinade whole chicken breasts in the lime+soy+ginger+garlic mix in the fridge overnight, before cooking in the oven (covered) for about 35 mins until the chicken is cooked through.
Put the flour in a pan and add enough of the juices from the roasting dish to make a paste. Add the rest of the juices and then the chicken stock a little at a time until you have a smooth gravy. Bring to the boil. You don't need to add any extra lime or soy sauce as the chicken has been cooked in the marinade.
Anything left over tastes great in stir-fry the next night, or in chicken tortillas!