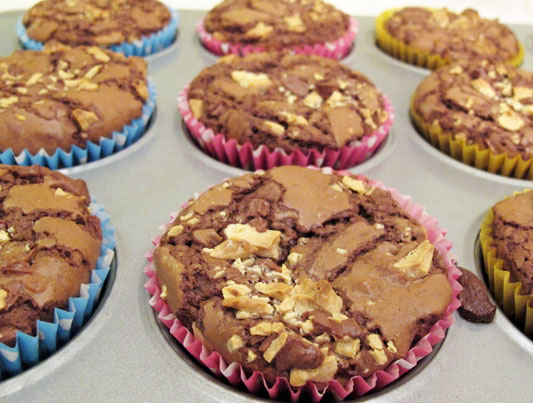 They say that cooking is a Science. So as my contribution to pushing back the frontiers I decided to do some research into how to create the Perfect Brownies – but not just ordinary Brownies, I wanted to make Brownie Cupcakes.
Now, I have to admit that I have struggled in the past with Brownie recipes. Cooking them in one big baking tin doesn't seem to get it quite right. Somehow a brownie from the chewy centre is never quite crisp and airy enough and one from the edge of the tray never quite has that essential brownie gooey-ness. But what if you could make individual brownies? As in brownie cupcakes? Surely you should get crunchy edge with fudgy centre all in one piece?
Sounded good to me – so, back to the research.
Step 1: Typing 'How to make Brownies' into Google brought up all the well known names on page 1 and I looked through them all to see what the essential ingredients were and if there was some magic formula. Cocoa or not? Caster sugar or brown sugar? etc etc – you get the idea.
Step 2: Quickly decided that if there is a magic ratio of ingredients I couldn't see it and wrote down a guess as to what might work out.
Step 3: Tried it out. It seemed wise to only make half quantities as this was a trial and my guestimated recipe contained 4 eggs and more chocolate than it seemed reasonable to ruin if it all turned into a disaster. So I started off halving everything, BUT forgot half way down the list and put in the whole amount of the last few ingredients! Ah well – cooked them anyway.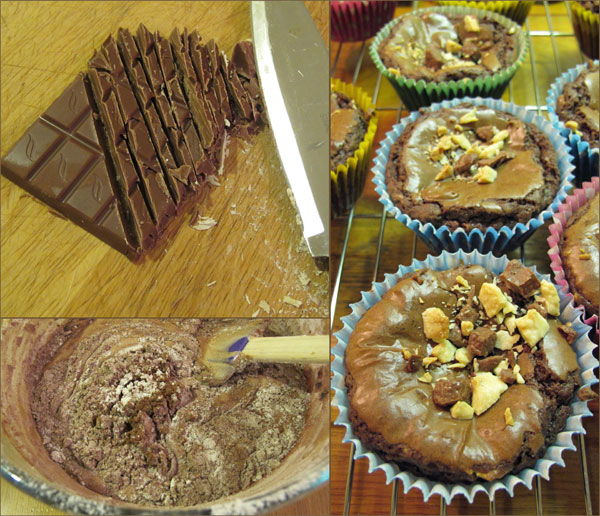 RESULT: Amazingly Delicious! Just the combination of crisp cracked shiny crust with a cake-y outside and slightly fudgy inside that I had been hoping for. The only problem was that the first batch didn't have quite enough chocolate chips in them so we (of course) had to make another lot!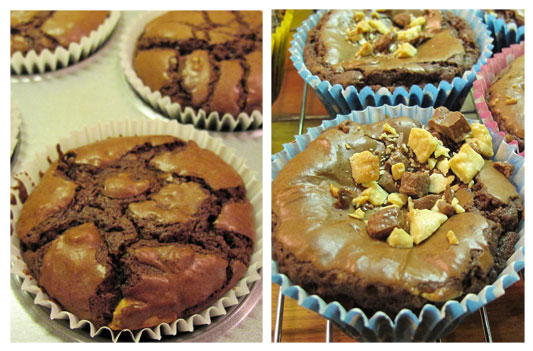 So – with thanks to all the recipes that appear on page 1 of a Google search for Chocolate Brownie Recipes – and a few tweaks since – here is the recipe for Brownie Cupcakes.
Chocolate Brownie Cupcakes
(Makes 10)
(updated 19/12/12)
Ingredients
100g dark chocolate (I used Bournville)
100g (slightly salted) butter
2 medium free range eggs
75g caster sugar
50g light brown muscovado sugar
120g plain flour
20g cocoa
1 teasp baking powder
A few drops of vanilla essence
100g chocolate – a mixture of white and milk chocolate – to make chocolate chips
Method
Melt butter and dark chocolate together in a metal bowl over a pan of boiling water, making sure the water doesn't touch the bottom of the bowl. When melted let it cool for a few minutes. Pour into a mixing bowl.
Break the eggs into a bowl with both the sugars and the vanilla, and whisk until the mixture has gone significantly paler in colour, is frothy and a little thickened – one of the other recipes suggested this may take 3 – 8 minutes. If you have a mixer or food processor with a whisk attachment and can leave them beating whilst you get on with other things, that's ideal.
Pour the egg/sugar mixture into the mixing bowl with the chocolate mixture. There should be quite a lot of air in the egg mixture which you don't really want to lose, so fold the mixtures gently into each other.
Weigh the flour, cocoa and baking powder into a bowl. Sift through a sieve into the chocolate/egg mixture, adding about a third before folding in gently, then another third – and so-one until all is incorporated. Don't overmix.
Chop the white and milk chocolate into small chips using a sharp knife and add 2/3rds to the brownie mixture, saving the remainder for later.
Line a muffin tray with cupcake cases – fill each ⅔s full with brownie mixture.
Bake the cupcakes at 180°C for 20 minutes. About half way through open the oven door and scatter the remaining chocolate chips over the top of the cakes before returning to the oven to finish cooking.
Take them out at 20 minutes when they should have a shiny cracked crust and not wobble when you shake the tray gently. If they do put them back for another couple of minutes cooking. You can't test whether they are done or not as you do with cakes with a cocktail stick inserted into cake coming out clean – the brownie mixture will stick to it.
Transfer them to a wire rack to cool straight away – gently as they're still a little fragile. This is important to stop them cooking and ensure that they keep the goo-ey centre. Alternatively if you prefer the more cake-like variety, leave them in the cupcake tin for 10 minutes or so before transferring out to cool.
Eat them when warm with ice-cream, or they are possibly even nicer the following day when they've cooled.
Updated!! (02/02/14) If you find the cupcakes too large, you can make them fairy-cake size – just cook for 14 minutes before cooling on a wire-rack. Chocolate Brownie Fairy-cakes – small, delicious and very more-ish!!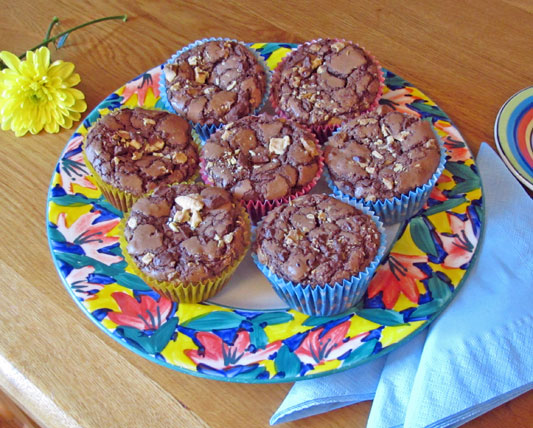 I'm entering these into the December Tea-time Treats link up at What Kate baked co-hosted by Lavender and Lovage – two fabulous blogs who have run this link up for a year now. The theme for this Christmas-y month is Chocolate so hopefully these will fit right in!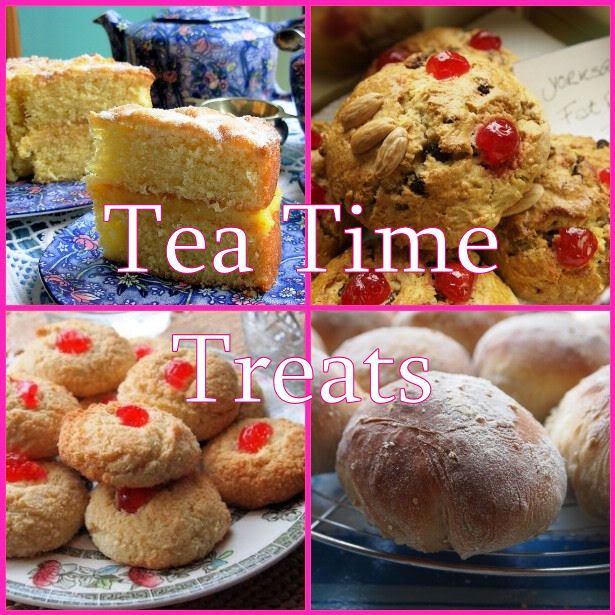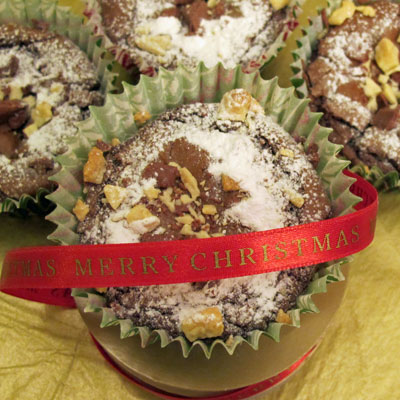 And, a final thought…
Should these be called Cupcakes or Muffins?? And what is the difference anyway?
Searching on the internet, the comments I have seen suggest variously that Muffins are made with oil (so these are cupcakes), and Cupcakes have icing (so these are Muffins)?
But the best comment I saw was here:
"If you throw a cupcake against a wall you get a sound like "pouf"; if you throw a muffin against a wall you get a sound like "thud" !
What do you think?