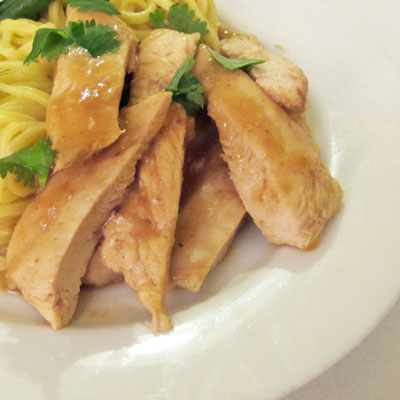 **updated 18th Feb 2017 to a much simpler version**
This recipe was inspired by one my husband saw on day-time TV years ago when recovering from a back injury. It's been a long-term favourite in our house. it doesn't take too long to prepare, everyone likes it (in my house) and it has a lovely surprising flavour. Fresh lime juice cuts through salty soy sauce to complement the meltingly tender chicken perfectly.
If you have any leftovers they taste great in stirfry with spring onions and oyster sauce – so I'll often cook extra to make sure there's enough left over for the next day.
You can also freeze portions of marinade (just make sure it does actually freeze – the salt content of soy sauce is so high that some people say that it doesn't freeze in their freezers). I tend not to freeze the chicken in the marinade as if you leave it in the freezer for more than a week or two the flavour becomes too strong.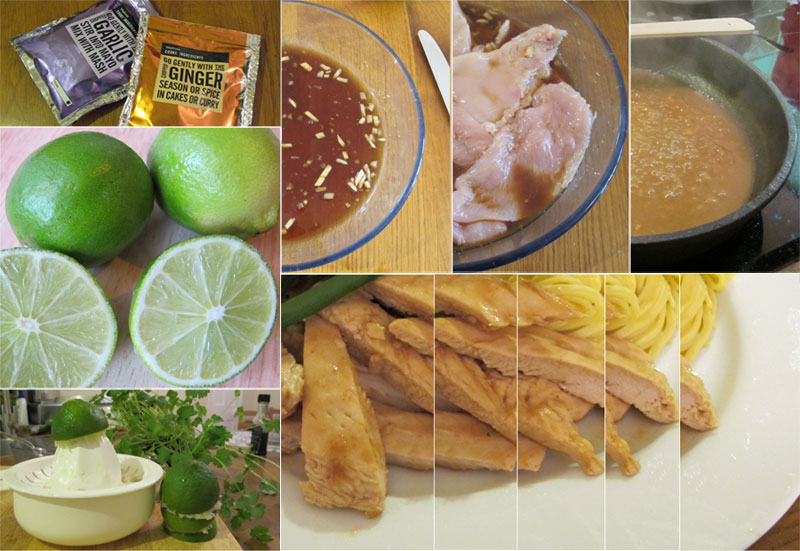 Chicken in Ginger and Lime
(Serves 4)
(About 5 mins preparation time – then about 35 mins cooking in the oven while you put your feet up)
You will need:
4 chicken breasts
Juice of 2 limes
3 tablesp of light soy sauce
1 teasp chopped garlic
1 inch chopped ginger
Enough egg noodles for 4
Method
Put the lime juice, soy sauce, garlic and ginger in a bowl and mix.

(To cut down on preparation time I use chopped frozen garlic and ginger which you can buy from some supermarkets.)

Place chicken pieces in the marinade, turning to make sure each is covered. Place some clingfilm over the bowl and leave for as long as you can (either 10 minutes if you're eating them tonight or put in fridge to cook the following evening if you can).
Heat the oven to 190.C. Place chicken breasts in a roasting dish, cover with tinfoil and bake in oven for about 35 mins until the chicken is cooked through (the juices run clear if you stick a fork in them).
A few mins before the chicken is ready, cook the noodles according to the packet instructions.
Slice the chicken pieces into strips and serve with the noodles and sauce poured over. You can make extra gravy if you like – I confess I usually take the easy route and use chicken gravy granules made with boiling water and the pan juices.
Enjoy!