This is Sam's Stern recipe for macaroni cheese from his book 'Get Cooking'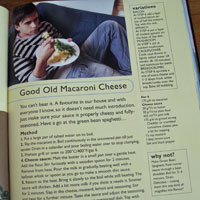 We've tweaked the quantities so this should feed one hungry student.
Ingredients
85g pasta (macaroni)
20g butter
20g plain flour
200 mls milk
85g grated cheddar cheese + extra
¼ teaspoon English mustard
½ tablespoon lemon juice
Directions
Heat oven to 200°C
Pasta

Fill large pan with water.
Add salt (about ½ teasp) and put on to boil.
Weigh 85g pasta.
When water is boiling, add pasta to pan and turn down heat slightly.
Cook following packet instructions.

Cheese Sauce

You also need:

– ¼ tsp english mustard
– ½ tbsp lemon juice

Melt butter in saucepan over a _medium_ heat.
Add flour & stir for 2 minutes.
Take pan off heat.
Add milk slowly: start with a tablespoonful at a time, stirring well into the butter mixture till it is a smooth consistency before adding more milk.

Put pan back on heat. Stir continually till it heats and thickens.
When it comes to the boil, simmer for 1-2 minutes.
Add cheese, mustard and lemon juice. Stir until all melted.
Take off heat. Taste and add pepper and salt as you like (= 2 grinds black pepper, we didn't add any salt).
Put pasta and cheese sauce into an oven proof dish and stir until all the pasta is covered with sauce.
* Add extras (cooked beforehand), eg:
– ham and mushrooms?
– broccoli and chicken?
Grate some extra cheese on top.
Bake in oven for 20 minutes or until cheese is bubbling and golden on top. If you don't have an oven, you can put under a hot grill for a few minutes instead.




You could also try: