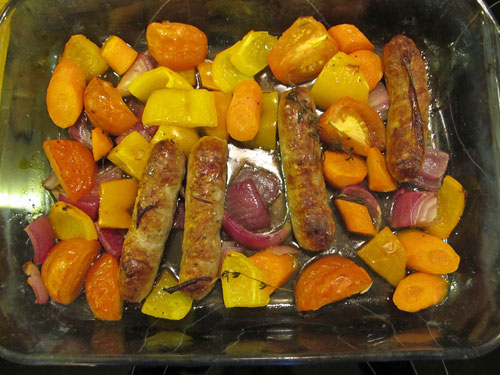 It's British Sausage Week, so – of course – we have to eat sausages this week (see – the advertising is working). And talking of advertising have you realised that it's only SEVEN WEEKS 'till Christmas?!?
Now I love Christmas, but it is expensive. So, in an effort to prepare, I'm looking at budget meal plans this month and aiming to produce suppers for around £5 or less (for 4). The difficulty I have always found is that if you want to cook quickly it's difficult to also cook cheaply. For example, Chicken and Guacamole Tortillas makes a very speedy snack, but buy the ingredients ready cooked and you can easily get into double figures in terms of cost.
So I want everything! Speed AND low cost! Hopefully, if I manage a whole month of budget meals I'll also find some quick recipes too – if you have any ideas I'ld love to hear them!
I'll post the pictures and successful recipes along the way.
Costing meals is difficult. Prices vary and of course it depends on which products you buy. I've costed these with Sainsbury's prices via mysupermarket.co.uk using the cheapest products available. And if something uses eg half a pack of potatoes costing £1.60, I've taken the price to be 80p.
So this week – each at around £5.00 for 4: