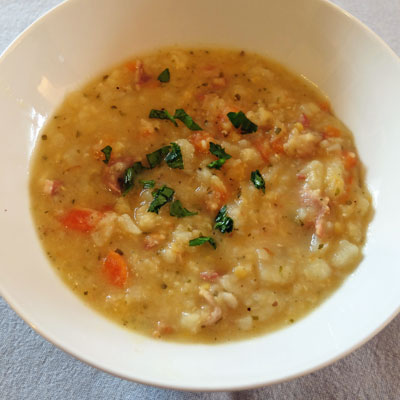 The last low cost weeklymenu plan should probably have been called 'Lentil Week' in our house! (I wonder if there is one?)
First there was the Lamb and Lentil Curry with peas, then the Lamb pasties – both of which were delicious. The pasties were everything one could ask for on a Tuesday night: easy, quick and more-ish.
I should have published the other recipes from the week sooner but unfortunately we've not been well so a lot of things we should have been doing have been left to one side.
But here is Bacon and Lentil Soup – and you just have to make this: warm, comforting, filling, nutritious – I could go on but you get the picture I'm sure – oh, and not expensive (£2.42 for four – though you could make it cheaper).
I've put in approximate amounts that I used, but you really don't have to be that exact. I just wanted to give some idea of the amounts used in costing it up.
Bacon and Lentil Soup
(Serves 4)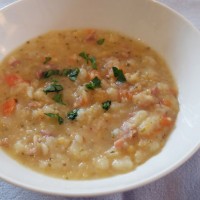 Time to prepare: 35 minutes
Cost: £2.42
Family rating: ★★★★★
Ingredients
1 medium onion
4 rashers of bacon, cut into strips (~100g)
2 medium carrots (~250g)
2 medium potatoes (~450g)
A little oil
100g red lentils
1 tablespoon chopped parsley
750mls vegetable stock
Directions
Peel and slice the onion. Chop the bacon into strips. Peel and dice the carrots and potatoes.
Fry the onion and bacon in a little oil in a pan over a medium heat, for about 5 minutes or so until the bacon is cooked and the onion is softened
Add the carrots and potatoes and stir over the heat for a couple of minutes.
Add the vegetable stock, parsley and lentils. Season with pepper. Bring to the boil and simmer for 25-30 minutes (depending on how long it takes your lentils to cook) until the lentils are cooked.
Taste to check the seasoning (It probably won't need any salt) and then serve with warm crusty rolls or bread fresh from the bread-maker!
Costs:
1 onion (part of pack Sainsburys basics onions) = 9p,
½ pack bacon (Sainsburys unsmoked back bacon 225g buy 2 for £4.50 – you can buy cheaper) = £1.13
2 medium carrots (~250g) = 25p
2 medium potatoes (~450g – part of pack Sainburys white potatoes 2.5kg for £2.09) = 38p
100g lentils = 22p
Oil, parsley, vegetable stock (guestimate) ~ 35p
Total = £2.42