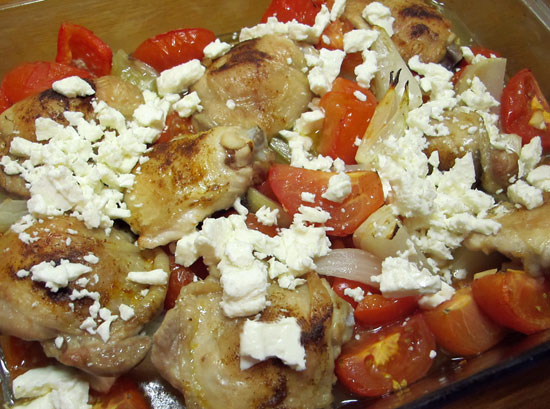 Entertaining on a weekday can make for some interesting challenges, can't it?
The ideal is a sumptuous meal (of course), prepared with minimum effort, in not very much time, which will deeply impress your guests. Or so we hope.
This may not be quite an impress-the-boss sort of meal, but it is out of the ordinary enough for us to serve up to friends on a weekday evening – and it takes about 5 minutes to put together and then sits quietly in the oven not disturbing you while you get on with your other preparations. Or while you help your youngest with their homework. Or wash the mud off their rugby boots. Or (preferably) put your feet up and slurp a glass of wine, relaxing after your busy day.
So all in all, this recipe has quite a lot going for it.
If I'm making it for the family then I tend to make it with chicken thighs (1.25kg frozen for £3.25 from Waitrose) which makes it relatively inexpensive – using a kilo of chicken thighs and no spring onions bought the meal in at less than £5. But the size and number of chicken thighs in each pack do vary so it is difficult to be exact.
Paprika Chicken with Feta
(Serves 4)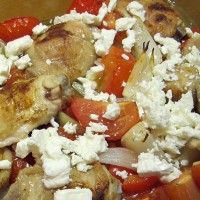 Ingredients
4 (skin-on) chicken breasts
1 onion
a handful of cherry tomatoes (~150g)
~10 fresh basil leaves torn into pieces
1 tbsp oil
1 tbsp paprika
100g feta cheese, chopped
~4 spring onions, sliced (optional)
Directions
Peel and chop the onion into wedges. Wash and halve the tomatoes. Place in a roasting dish. Scatter over the torn basil leaves. Pour over the oil and mix around till the veg are covered.
Put the paprika into a bowl. Place the chicken breasts skin side down into the roasting dish to cover them with oil, and then again into the paprika so they get an even coating over the skin. Place skin side up in the roasting dish.
Cook at 200ºC for 30 – 40 minutes until the chicken is cooked and the juices run clear when pierced with a fork. About 5 minutes before the end sprinkle over the feta and spring onions and put back into the oven. Cover with foil if the chicken is becoming too browned.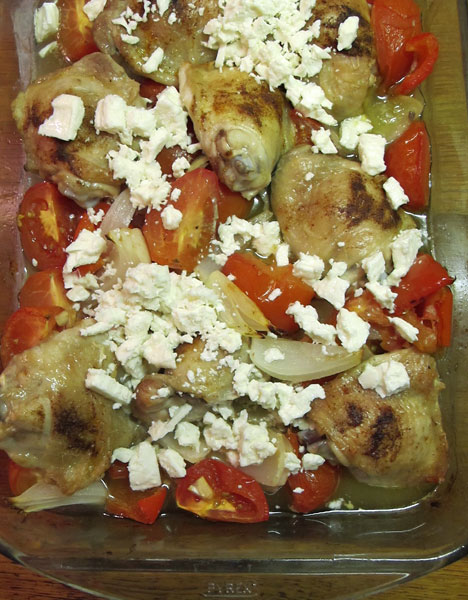 Leftovers:
If you want to use up the rest of the feta, why not try one of these recipes: