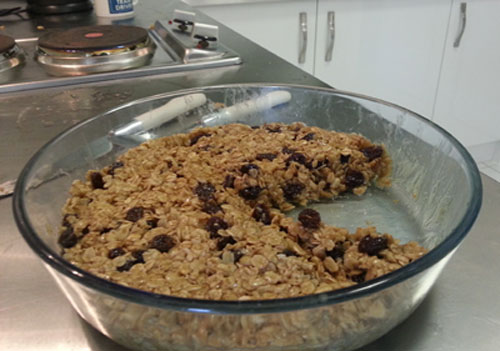 OK – I agree, this picture might not look very exciting at first glance – but I was VERY pleased to get it!
You may wonder why a picture of a tray of flapjacks is something to get excited about. But these are Flapjacks with a difference. Student Son made them. All. on. his. own.
Yep, all those cooking lessons paid off – well to an extent. To be honest, one out of five recipes is more than I expected.
Apart from that he has eaten pasta. 'What with?', I asked, only to be told that it was just that. Pasta.
Sometimes Tortellini (as a treat), or maybe with some grated cheese but that's about it.
So, in an effort to expand his diet beyond Pasta and Flapjacks, I've posted three microwave sauces so he can at least add something to the pasta.
The impetus to try them out was looking for things a non-cooking student could make easily, but they are all so simple, quick and easy – and one-dish too – that they are worth having in your recipe collection. We're having macaroni cheese tonight (supper in minutes after a long day is fine by me!).
AND they each cost less than £1.00 per portion
Creamy Tomato Sauce
(serves 2)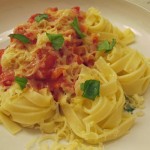 Ingredients
1 small onion
A little oil or butter
1 clove garlic, chopped or a squidge of garlic puree (optional)
1 (400g) tin chopped tomatoes
½ teaspoon dried mixed herbs
1-2 tablespoons creme fraiche
A couple of tablespoons of grated cheddar
Directions:
Peel the onion, chop into quarters and slice each thinly.
Put in a microwaveable bowl with a little butter or a drizzle of oil and a pinch of salt – stir and heat on high for 3 minutes.
Add the garlic and the tomatoes, stir and cover with cling film (the tomato sauce can spit). Pierce holes in the cling-film and heat again for another 2 minutes – stir. Heat for another 2 minutes if you want the sauce a little thicker.
Add a tablespoon of creme fraiche to the mixture (more if you like) and serve with cooked pasta and grated cheese.
Mushroom Sauce
(Serves 1)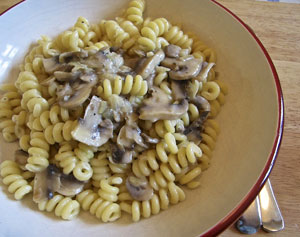 Ingredients
1 small onion
a small knob of butter
4-5 mushrooms (about 80g)
1 clove garlic, chopped or a squidge of garlic puree
2 tablespoons creme fraiche
A couple of tablespoons of grated grana padano
Directions
Peel the onion and chop up small

Melt a teaspoon of butter in a microwaveable bowl and heat for a few seconds to melt

Stir in the onions slices and a pinch of salt. Cover with clinic film, pierce holes in film and heat for 4 minutes on high

While that's cooking wash, peel if you like and slice the mushrooms evenly

Add the garlic, mushrooms and a couple of tablespoons of water to the bowl and stir

Cook for 3 minutes on high – stir and cook for another minute or so if needed

Add 2 tablespoons of creme fraiche to the mushrooms. If the sauce needs more liquid add a tablespoon or two of pasta cooking water.

Serve with pasta and the grated cheese – either as it is with some salad, or it goes well with some grilled pork chops to make a quick supper
Cheese Sauce
(Serves 1)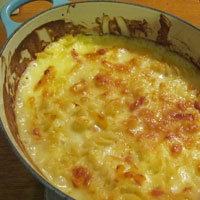 Ingredients
20g butter
15g plain flour (2 level tablesp)
200 mls milk
60g grated mature cheddar cheese + extra
½ teaspoon English mustard
Salt and Black Pepper
Whilst the pasta is cooking, put 20g butter in a microwaveable bowl. Heat for 30 secs in the microwave to melt.

Stir in 15g plain flour (2 tablespoon).

Add 200mls milk to the butter/flour mixture: start with a tablespoonful at a time, stirring well into the butter mixture till it is a smooth consistency, before adding more milk.

Add 60g grated cheddar to the sauce.

Heat the sauce in the microwave, stirring after every minute. Continue until it has boiled for 1 minute.

Check the pasta at some stage during this.

Taste the sauce and add ½ teaspoon English mustard (optional but nice). Then add salt and pepper to taste (it doesn't seem to need a lot of salt so go carefully).

Heat for a further 30 seconds.

Mix with the pasta and anything else you feel like adding (vegetables, ham, sweetcorn etc). If you have a grill then top with a little more grated cheese and heat under the grill until the cheese is golden and melted