One of the tricks that people suggest to save money on your meals is to bulk out your meals with lentils and pulses. I have to admit that I've never been sure how that would go – or how they would go down with the family if I'm honest. Cave-men/boys that they are, they tend to get a bit suspicious of things that might replace meat…
But as I continue my search for quick and easy meals for less than a fiver I thought I'ld give it a go and adapt this curry which is an old family favourite. It worked well and we even had enough left over to have the next night too, but in a slightly different guise: lamb pasties. Another success! so here are the recipes I used.
It is very mild curry so very suitable for all ages, you could always add more chilli powder if you like it hotter.
Lamb and Lentil Curry with Peas
(Serves 4)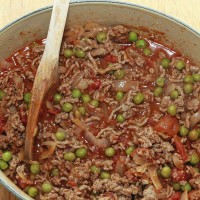 Ingredients
2 medium onions
1 teaspoon chopped garlic
1 tablespoon chopped ginger
1½ teasp mild chilli powder
1 teasp salt
400g tinned chopped tomatoes
500g lamb mince
200g cooked lentils
150g frozen peas
Directions
Slice the onions. Heat the oil in a frying pan – preferably a deep one with lid – and fry the onions and garlic gently until softened
Stir in the ginger, chilli powder, salt and tomatoes and stir over the heat for a couple of minutes
Add the mince and brown, breaking it up as it cooks.
Cover and simmer over the heat for 10 minutes or so until the meat is cooked through, then add the peas and cook for a few more minutes.
(If you're going to make pasties tomorrow I would make the pastry now – see below – and keep in the fridge wrapped in clingfilm overnight)
Finally add the lentils and stir over the heat until all is warmed and cooked through.
Serve with basmati rice – BUT – take out 3 serving spoonfuls of the meat beforehand to reserve for tomorrow nights supper (each pasty will take about a dessertspoonful so you need 8 – 12 dspfuls depending on how many pasties you want – we had 12).
…and then tomorrow…
Keema Pasties
(Serves 4)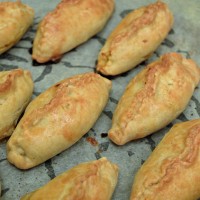 Ingredients
Leftover lamb mince curry
375g shortcrust pastry, shop-bought or made according to this recipe using 250g plain flour and 125g margarine
1 egg beaten
Directions
Roll out the pastry until about as thick as a £1 coin and using a 10cm (4 inch) pastry cutter, cut out 12 circles and lay on a floured board.
Place a small dessertspoonful of the meat in the center of each pastry circle – you don't want to overfill them or they may burst when cooking. Wet the edge of the pastry with cold water and lift the sides up over the meat – press the edges together firmly all the way round. Place on a baking tray, lined with baking parchment.
When all the pasties are made, brush with beaten egg and prick each a couple of times with a sharp knife. Bake for about 15 minutes at 210°C until golden brown on top.
Costs:
(All Sainsburys prices except for mince – on offer at Waitrose at 3 for £10 at present
2 medium onions – basics onions 1.5kg for 95p = 18p
400g tinned chopped tomatoes @ 35p
500g lamb mince @ £3.35
100g cooked lentils @ 35p
150g frozen peas @ 24p
garlic, ginger, chilli powder and salt – guestimate @ 30p
rice 250g – basics long-grain rice 1kg for 40p = 10p
375g home-made pastry @ 49p
Veg of your choice to eat with pasties – we had carrots and cabbage at 77p
Total cost for both meals = £6.13