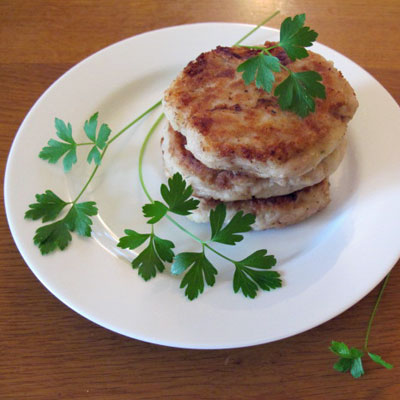 Steamy, buttery mashed potato is one of my favourite foods, although my eldest hates it (- what's there to hate?). But the cold and clammy version found in the fridge the next day is distinctly unappealing – combine them with fish though and they become delicious and comforting again!
Homemade fishcakes are so much better than shop bought, and these are lovely, simple and quick. Made from leftover potatoes and tinned tuna they still have a delicious fresh flavour that tastes as if you've spent longer making them than you have!
If you don't have any leftovers you can mash freshly boiled potatoes – or if you are short of time (are we ever not?), buy a tub of ready made mashed potato and use that.
Tip: (updated 2/04/14) Why not try them with the deliciously zesty Lemon Yoghurt Dressing from this recipe?
Tuna Fish Cakes
(Serves 4 – makes 8 fishcakes)
Fridge to table time: 20 minutes (although should be longer if you put them in the fridge to firm up)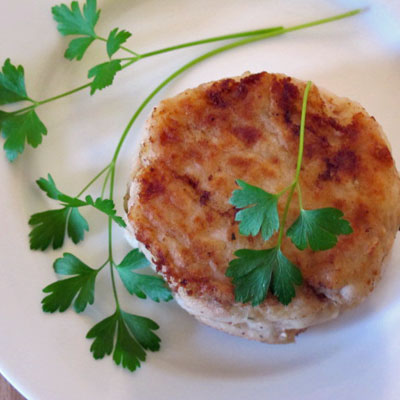 You will need:
Approximately 500g leftover mashed potatoes or a tub of ready-made mashed potato
2 x 185g tinned tuna, drained
a bunch of spring onions – white parts sliced thinly
1 teasp chopped dill (I use dried)
salt and black pepper
a little flour
oil for cooking
Method
Drain the tuna and empty into a bowl. Flake the fish with a fork and then mix in the potato, chopped spring onions, and dill.
Shape the fishcakes – it's probably easiest to use your hands. This amount will make about 8. Put some flour in a bowl and when you've made each fish cake place in the flour and then turn over so that it gets a light coating of flour all over. This just helps the outer layer crisp up when cooking and makes the fish cake less likely to fall apart.
Ideally you should put the cakes into the fridge for 30 minutes or so before cooking – (or even better, make them the night before) – as this firms them up a bit and again helps keep them together whilst cooking.
But I quite often cook them straight away – just take extra care that they don't break up when you cook them.
Whenever you're ready, cook in a little oil until golden brown on each side.

And that's it!

I usually serve with some green veg, baby corn or salad.
What do you eat with your fishcakes?