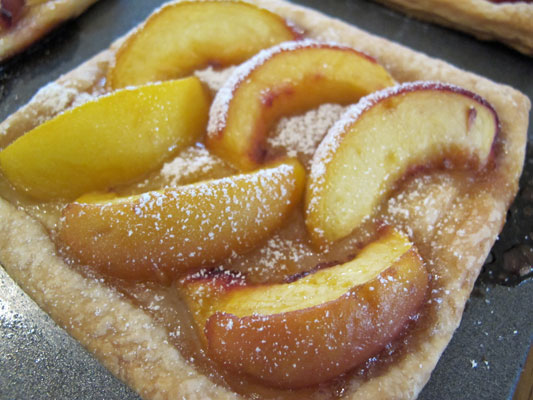 This is another end-of-summer-recipe – in fact, an end-of-holiday recipe – born from some peaches we bought all the way back from our holiday. Yes, we drove them 500 miles in a sweltering hot car (the air con had broken) from the south of France back to good old England.
'Why' – you might ask, as peaches don't always travel so well – but I love the peaches that you can buy in the South of France. They are so big, ripe and juicy and seem so different to the small hard fruit you sometimes get here that seem to go from too-unripe-to-eat to rotten in the blink of an eye (perhaps I just don't pay them enough attention!?). So when it was time to leave and we found we had bought too many, I couldn't leave them behind! To be honest they probably survived the 24 hour trip better than we did.
So these tarts are made with well-travelled French peaches, but I'm sure they will taste just as good if you get some from the local supermarket!
Summer Peach Tarts
(Makes 6 large or 8 medium tarts)
(Fridge to table time ~30 mins)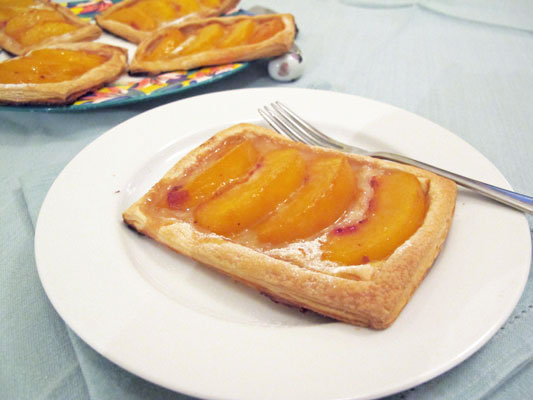 You will need:
320 g sheet of ready made puff pastry (- well, this is supposed to be a website about quick cooking – but make your own if you wish!)
1 tablespoon soft brown sugar
1-2 tablespoons of good quality apricot jam
3 large peaches depending on size
Icing sugar for dusting
Method
Don't forget to take the pastry out of the fridge 10 mins before you want to use it so that it is warm enough to unroll without cracking. Set the oven to 200°C.
Unroll the pastry onto a chopping board and cut into 8 equal size squares. I made 6 here, but they were just a bit large and I would suggest aiming smaller.
Grease a baking tray and lay pastry squares onto it.

Using a sharp knife, score the pasty all the way round the border, about 1 cm in from the edge. Make sure you don't cut all the way through. This allows the edge to rise during cooking keeping the fruit safely inside.
Spread about a teaspoon of apricot jam evenly over the pastry inside the knife marks.
Wash the peaches – quarter and cut each quarter into 3 slices lengthways. If you' re aiming for perfection then peel the peaches before doing this (cover them in boiling water for 30 seconds before slipping skins off), but I have to admit that I don't always (well – we are trying to produce results in not alot of time here! And anyway, I like peaches with their skins on – but its up to you!)


If you have trouble removing the stone without squishing the peaches – cut the peach in half all the way round along the seam, down to the stone. Holding the peach with one half in each hand, twist your hands in opposite directions. One half will come off without the stone. With the other, cut the half peach in half again, and again twist. You can easily cut away the stone from the last quarter with the knife.

Put the peach slices in a bowl, sprinkle over the brown sugar and mix gently until all the slices are evenly coated in sugar.
Arrange the peach slices on the pastry bases and cook at 200°C for about 20 mins until the pastry is golden brown.
Dust with icing sugar and eat warm with ice cream – close your eyes and remember summer holidays!