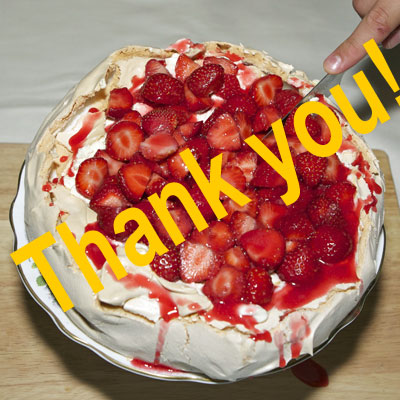 I have to say a BIG thank you to every one who commented last week and said how impressed they were with the cake my son made me for my birthday. He was so pleased with the results that he has been cooking all week – it's been great to come home each evening to yet another gorgeous creation.
We've had Chocolate Ice-cream – which was very creamy and chocolatey…
…and Vanilla swiss roll with raspberries and cream filling – which I can't show you as we were concentrating more on eating it than taking pictures.
This meant that we had a few egg whites to use up, so last night he decided that he just had to make Strawberry Pavlova with Raspberry Sauce (we didn't argue).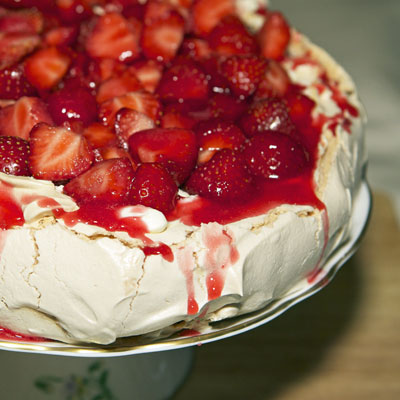 The recipe came from Mary Berry's book called 'Simple Cakes'. It's a great book – clear instructions, and truly delicious recipes which always seem to turn out just as they should. You can also find the recipe here. Meringue is one of those things that I don't cook very often but I can honestly say that I did almost nothing for this – oh, except muster the energy to eat it.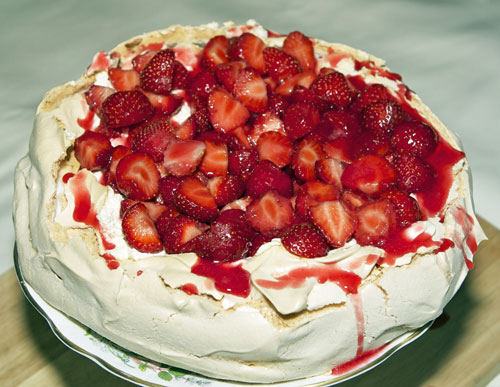 So – thank you for all the encouragement! I'm hoping that he'll feel enthused to carry on doing some cooking during the holidays. Of course that means that my hips might be as wide as the River Thames by the time term starts again but, hey it's worth the sacrifice if he gets to learn to cook!
Cooks Notes:
We followed the recipe to the letter (I'm told), but did cook it for a little over an hour. The recipe in the book says 1 – 1½ hours so we turned the oven off at 1 hour and 10 minutes when it was firm to touch and a beige colour
We added a raspberry sauce to the topping of whipped cream and sliced strawberries. This is very simple to make and goes really well with ice-creams, fruit and strawberry pavlovas. Make it as described in this recipe here.

Do your children enjoy cooking? How do you get them interested in learning?
You may also like: