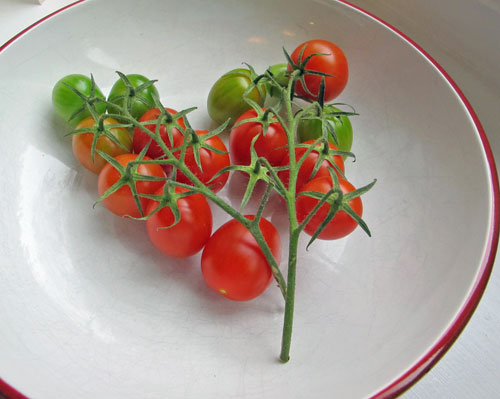 Day two of our budget week found us eating this lovely fresh Tomato, Basil and Feta Tart.
Sadly not with tomatoes from the garden. The picture above is our total crop so far this year! It seems unlikely that we're going to get more now we're edging into November.
I was surprised at first that this recipe was so well received by the family. But then what's not to like about sweet juicy roast cherry tomatoes with salty feta and fresh basil in a creamy cheese filling? It has definitely joined our 'make again' list.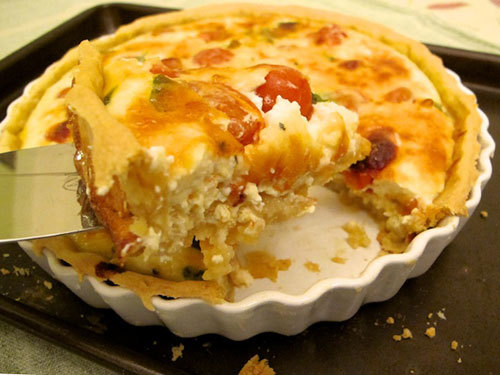 It doesn't quite fulfill my definition of 'quick' though. I make it in two parts: bake the pastry and roast the tomatoes one night while you're in the kitchen cooking supper, refrigerate overnight and then put the tart together and cook the following day. Going by the reactions I got when I served it up, it's worth the effort.
Roast Tomato and Feta Quiche
(Serves 4/5)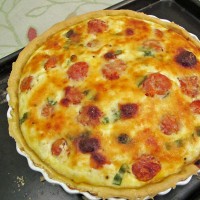 Cost: £3.86
Time taken: Preparation 40-70 minutes; Cooking 40 minutes
Family rating: ★★★★★
Ingredients
200g plain flour
100g margarine
3-4 tablespoons cold water
salt and pepper
300g cherry tomatoes
1 tablespoon olive oil
About a dozen fresh basil leaves or 1 teaspoon dried basil
100g of feta, diced
50g grated Grana Padano
3 eggs
200mls milk (I used semi-skimmed)
Directions
Make the pastry as in this recipe, or use ready made shortcrust pastry.
Grease your flan dish (~24cms), line with pastry. prick with a fork all over and trim the edges. Cover with baking parchment and fill with baking beans. Cook for 20 minutes at 200°C. Remove the beans and cook for a further 5 minutes.
Meanwhile, wash the cherry tomatoes and place whole in a baking dish with a tablespoon of oil, some seasoning and a few torn basil leaves. Bake on the top shelf of the oven for 20-25 minutes while the pastry is cooking.
Remove both tomatoes and tart from the oven when done. You can cool, cover and store in the fridge overnight at this stage.
To make the quiche, scatter half the grated cheese over the base of the tart. Spoon over the tomatoes and then the feta, arranging evenly over the base. Chop about half a dozen basil leaves into strips and scatter over the tomatoes.
Beat together the eggs and milk. Season with black pepper (the feta is quite salty so we didn't need much more). Pour into the pastry case.
Scatter over the remaining cheese. Then bake in the oven for about 40 minutes at 190°C, until risen and browned on top.
Serve immediately with veg / salad.
Costs
Again, you need to take these costs with a large pinch of salt (!) as prices vary so much so often, but from the prices I paid:
200g plain flour (Sainsburys basics plain flour 1.5 kg @ 65p = 9p)
100g margarine (Stork margerine 250g @ 70p = 28p
3-4 tablespoons cold water
salt and pepper
300g cherry tomatoes (Sainsburys cherry tomatoes 335g = £1.10 – my son ate 5 before we started!
Olive oil and basil (guestimate = 20p)
100g of feta, diced (Sainsburys greek feta 200g @ £1.60 = 80p)
50g grated Grana Padano (Sainsburys Grana Padano 200g @ £2.50 = 63p
3 eggs (Sainsburys free range medium eggs 12 @ 2.65 = 66p)
200mls milk (Sainsburys semi-skimmed 2.27l @ 1.29 = 12p)
Add some Frozen French beans (1 kgs @ £1.20 = 39p)
Total ~ £4.25