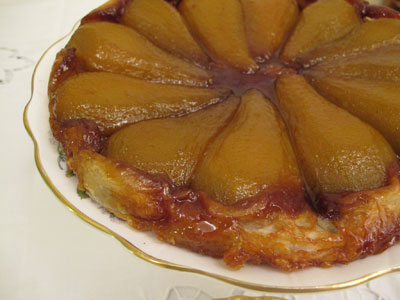 Considering that Tarte Tatin apparently started life as an accident it is one of the most amazingly delicious desserts that you can make!
It was apparently first made by accident by one of the Tatin sisters at their hotel in France. The guests loved the accidental result and Tarte Tatin has been around ever since.
Reading that story I was fooled into thinking that it must be easy to make (it started out as an accident so hard can it really be?), but now I've made several versions I realise I was wrong! But it is always totally delicious! So if you haven't tried it before, why not give it a go? This was inspired by Lorraine Pascales recipe for Pear Tarte Tatin, but has evolved since so I've given the recipe I used below.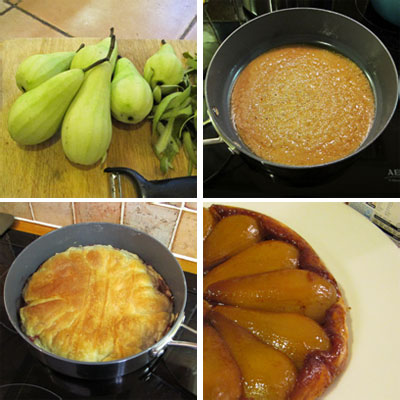 I am going to link this up to March's Tea-time Treats which is run by both Karen at Lavender and Lovage (this month), and co-hosted by Kate at What Kate Baked. This months challenge is anything French so hopefully this should fit right in.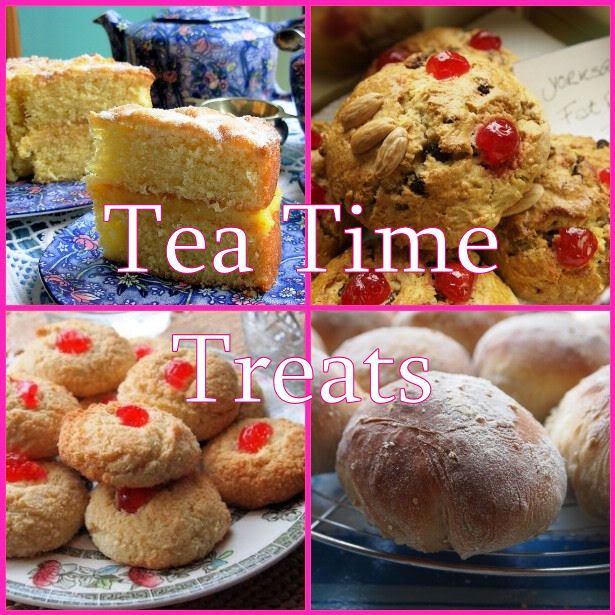 Pear Tarte Tatin
(Serves 8)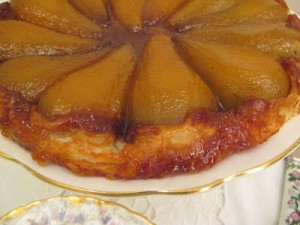 Ingredients
5-6 really firm pears
60g unsalted butter
110g caster sugar
Zest of half a lemon
Zest of half a small orange
About an 1/8th of a teaspoon of ground cinnamon or 3-4 pinches
A sheet of ready rolled puff pastry
Method
Peel the pears carefully using a peeler. Halve and core – or you can try quarters if you like. I tried that last time and was able to pack in more fruit (see the photo below).
Melt the butter with the sugar in a large thick bottomed pan over a medium heat. You need to use a pan which can also go into the oven.
When dissolved, continue bubbling over the heat until it darkens and caramelises. Swirl the mixture round the pan from time to time to ensure it cooks evenly.
Place the pear pieces in the caramel. I use a spoon for this. Caramel can get really REALLY hot and can burn badly so please don't touch or taste it.
Let the pears bubble away over a medium heat for about 15 minutes or so, turning them carefully occasionally. They will release a lot of juice diluting the caramel but it will gradually reduce and the mixture should end up a gooey rich amber colour.
Meanwhile – turn the oven on to 200°C.
Place the pastry sheet on a floured board and roll out so it is a little thinner and wider. Using the lid of your pan as a guide, cut out a pastry circle that is a couple of centimeters wider all the way round. Place on a plate and put in fridge until you need it.
When the pears are done, take off the heat and let stand for a few minutes. Make sure they are arranged rounded side down (you will be turning the tart upside down to serve). Sprinkle over the cinnamon and the zests.
Then cover with the pastry circle tucking the edges in a little way around the pears. I use the end of a spoon handle for this so as not to get burned
Pierce the pastry with a sharp knife 2-3 times and then cook for about 30 minutes until the pastry is crisp and well browned. Take out of the oven and leave to stand for about 15 minutes to cool a little.
To tip it out, place a plate carefully over the pan. Put on oven gloves to protect yourself from the juices that may leak out, and holding the plate firmly on top of the pan, flip them over quickly so the tart drops on to the plate
Stand back and admire!
Serve with vanilla ice-cream.