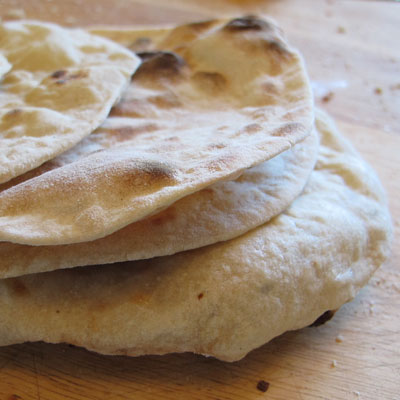 I hope you had a good Easter?
I post this recipe not because its a really rich indulgent Easter treat, but because it's a really good make-at-the-last-minute-when-there's-nothing-in-the-house recipe – as I discovered on Easter Sunday.
We were supposed to be going away for a few days on Sunday so I hadn't really planned to be making any meals at all as I thought we'ld be on the road. Unfortunately owing to a broken bike rack and the difficulties we then seemed to have trying to fix 4 bikes to the roof of the car with only 3 bike racks, packing took longer than expected. Which is why at 1.00 on Sunday we were still at home with my family looking at me hungrily asking when we could expect to have lunch? It wasn't a good time to be reminded that the shops are shut on Easter Sunday.
At which point I remembered Flatbreads – very simple to make, almost as quick as driving to the supermarket to then come home again because it's closed, and actually very good to eat. It took me about half an hour but I had lunch on the table before the bikes were on the car…
This is based on Hugh Fearnley-Whittingstalls recipe from River Cottage Everyday which I found referenced here but I guess flat-breads have been around for centuries. I've changed things a little.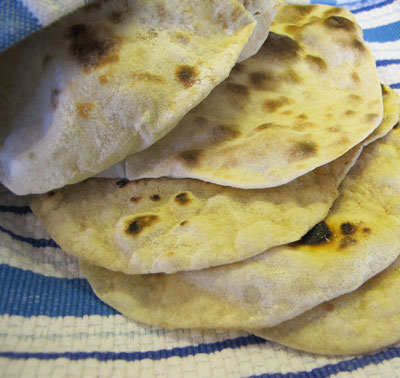 How I made
Flatbread Pizzas
Mix together 300g strong white bread flour (or you can use plain flour), 1 teaspoon of salt and 180mls warm water (I left out the oil). Some people also add various herbs and spices at this point.
Leave to stand for 5 minutes.
Knead dough gently on a floured board for about 5 minutes until it feels smooth and elastic – leave to rest for about 15 minutes.
Cut into about 8 equal portions and roll each out into a circular shape.
Heat your grill to high. Place a flatbread on a baking tray under the grill and cook for a minute or two until it starts to puff up and brown. Flip over and cook on the other side. You can't afford to stop watching them as they only take a minute or two.

(The recipe does suggest cooking them in a large cast iron frying pan, but I found that the loose flour started to singe and smoke so preferred grilling them).

Wrap in a clean tea towel to keep warm whilst you cook the others.
Serve with hummus, grated cheese, ham – just about anything.
OR for Flatbread Pizzas:


Grill the flatbread on one side and turn over.
We spread about a teaspoon of tomato puree thinly over the uncooked side and scattered with grated mozarella, though you can vary it as you wish.
Return to the grill for a minute or two until the flat bread is browned and the cheese is melted.
Take your pictures quickly or they'll be nothing left to photograph!