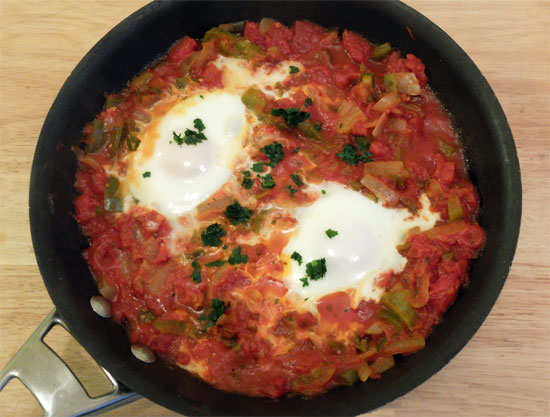 Do you ever have weeks that don't go quite how you planned them?
Last week was one of those weeks from the culinary point of view.
We didn't do Live Below the Line, but I put together a £15 menu (£1 a head for 5 weekday suppers).
Toad in the hole with baked beans and frozen peas came to £2.85.
BUT 10 minutes before it was ready my son rang to say could I pick him up NOW please, please, please rather than in an hours time – so it wasn't looking so good by the time we got home to eat it.
The Lamb and Lentil curry cost £5.41 and was going to be the basis for two nights BUT it was ruined by something not nice in the mince I bought – so we had Homemade Pizza (£3.48) instead (Youngest Son thought that was great!). I was not so impressed with having to cook two suppers, but at least I got a refund!

Leek and Mushroom Pearl Barley Risotto cost £2.26
Served up the next day in place of the Lamb Pasties (no curry) this was NOT so popular (well, deeply unpopular in fact).
It turns out that they don't like barley – which is a great shame as I've finally worked out that if you want to cook meals with barley in quickly you can cook and freeze ahead of time. Just freeze it flat, in as thin a layer as possible, so that it's possible to break up before defrosting.

Turkish One-pan Peppers and Eggs (£2.73) was the success of the week and was surprisingly delicious with Cheesy Flatbreads (46p) and I'm definitely allowed to make that again. And it's quick! We doubled the sauce and with 6 (free-range) eggs had enough for four (see below for the amounts).

Lastly there were the Falafels, which with Pitta breads and Tomato Salsa cost £2.00. The BUT here was that – frankly – I thought they didn't taste of anything! although the tomato salsa was delicious. So I grilled some lamb kebabs in garlic to go with them. The combination was lovely, but broke the budget (= £7.00).
So, not quite what we'd planned. But total spent for 5 meals (including refund) = £17.69. so not a bad bottom line!

Taken from the recipe at
BBC GoodFood
.
Turkish Peppers and Eggs
(Serves 4)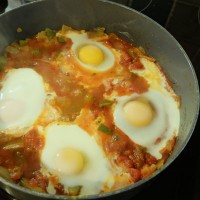 Ingredients
1 tbsp olive oil (10p)
2 onions, sliced (Sainsburys basics 16p)
2 green peppers (Lidl 60p or 250g frozen peppers @ 42p)
1 green chilli (Sainsburys 16p)
2 x 400g can chopped tomatoes with olive oil and garlic (Sainsburys on offer 60p)
6 free-range eggs (Lidl 95p)
4 tbsp natural yogurt (Sainsburys basics 13p)
1 garlic cloves, chopped (~3p)
For the flatbreads:
200g plain flour
½ teaspoon of salt
120mls warm water
100g grated cheddar
To make the Turkish Peppers and Eggs:
Fry onions, peppers and chilli in oil until cooked. I used two pans to make room for all the eggs.
Add the tomatoes and simmer for a few minutes until the sauce thickens.
Make 3 depressions in the sauce with the back of a spoon in each pan (or as many as you want eggs) and crack an egg into each. Cover and leave simmering for a few minutes until the eggs are cooked to your liking.
Stir chopped garlic into the yoghurt.
To make the Flatbreads:
Mix together the flour, salt and water in a bowl. Leave to stand for 5 minutes.
Knead dough gently on a floured board for a few minutes until it feels smooth and elastic – leave to rest for 10-15 minutes.
Cut into about 6 equal portions and roll each out into a circular shape.
Heat the grill. Brush one side of the flatbread with a little oil and heat until beginning to brown. Turn over, brush with a little oil and sprinkle with cheese. Grill until the flatbread is browning and the cheese is melted.