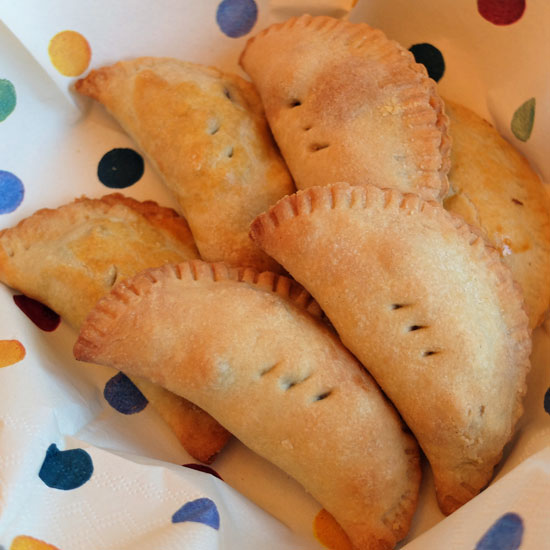 What do you make with leftover lamb?
Roast lamb is one of my favorite meals, but I've always found it difficult to find recipes that work with leftover lamb.
I've tried a ragu, shepherds pie, lamb curry – but somehow none of them disguised the fact that it is leftover lamb (and they don't like eating leftovers).
A couple of weeks ago I tried this recipe for Moussaka suggested by the Guardian, which was probably the best so far – until I tried these Lamb and Rosemary Pasties. No-one noticed that they were leftovers!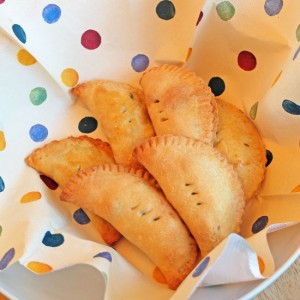 Leftover Lamb, Pea and Rosemary Pasties
(Makes about 15)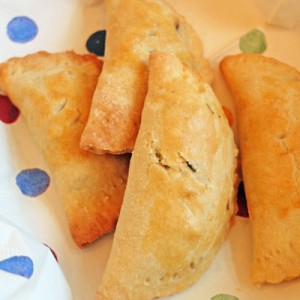 Ingredients
Cooked Lamb (about 6-8 tablesp)
Cooked peas or other vegetables (about 3-4 tablesp)
4-5 tablespoons of gravy
1/2 teaspoon dried rosemary
500g shortcrust pastry – or make your own from 300g plain flour, 150g margarine and 4-5 tablesp cold water
1 egg beaten (optional)
Directions:
Make the pastry, wrap in cling film and put in the fridge for about 30 minutes to chill.
Chop the lamb into small pieces. Mix together in a bowl with the peas, rosemary, and seasoning – if using other veg make sure they are diced small. Add enough gravy to make the mixture moist but not too runny. I've given very approximate amounts – each pasty takes about a heaped dessertspoonful so that's how much filling you want to end up with.
Roll out the pastry and using a 10cm round cutter, cut out about 15 or so rounds – or as many as you think that you'll eat (they do seem to be very more-ish).
Take a pastry circle, place some mixture on one half, about a centimeter away from the edge. Wet the edge of the pastry with cold water and then fold in half pressing the edges together. Don't overfill them or they may burst during cooking.
Arrange the pasties on a greased baking tray. Make a couple of slits in the top of each one, brush with beaten egg and cook for about 15 minutes at 200°C until the pastry is cooked and golden brown on top.
As I made these from our leftover roast dinner, I am linking up to the No Waste Food Challenge run by Elizabeth's Kitchen Diary and hosted by Farmersgirl Kitchen this month.

Loading InLinkz ...