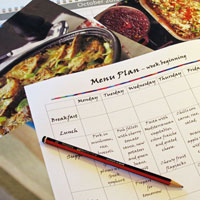 OK – I've planned – and shopped. Now it's time to cook this months food (take a big breath).
Having had a good look at what I did last time I'm going to make a few changes this time
– two weeks meals and then repeat
– more complete meals this time.
– a few lunches
– some cakes / biscuits (something to look forward to after a long day cooking!)



So it looks like this (make ahead meals are starred):
Two Week Menu Plan
So 'all' I have to do on Cooking Day is (-wish me luck!):
Suppers
Chicken in Black Pepper x2
Bacon and Tomato Sauce x4
Lamb Burgers x2
Meatballs x2
Lemon, garlic and rosemary marinade for lamb x2
Mediterranean Chicken x2
Chicken in sweet curry sauce x3 (extra for when friends come to supper) – a simplified version of this. Just freeze the cooked sauce. Add the mayonnaise and cooked chicken when defrosted.
Lunches
Chicken Chimichangas
Snacks
No-bake oat and seed bars
Banana muffins – use this recipe but bake as muffins
Lemon Shortbread (to use the zest from all those lemons I'll use in the marinade)
Raisin bread
Have I been too ambitious? I'll let you know!
It won't hurt as our kitchen needs decorating and I'll be cooking under dust sheets for a couple of weeks.
Have a good week!
As usual I'm linking up to Mrs M's Meal Planning Monday where you can find lots of great ideas for meals.