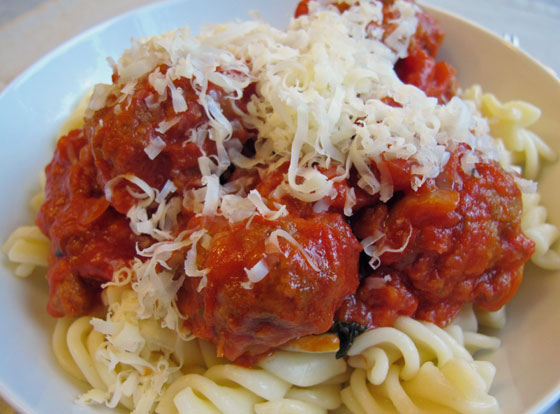 Don't you just love those recipes that you can serve up in a number of different ways – cook double one night and serve it up looking like a whole new meal the next day (it saves all those groans of 'Oh no – not this again!!' – which they seem to say even if they greeted it with whoops of joy the first time!).
This is one of those. Rich lamb meatballs with feta, which you can cook with a variety of veg ending up with the juices from the meat, herbs and veg all mixing together in glorious deliciousness – like this: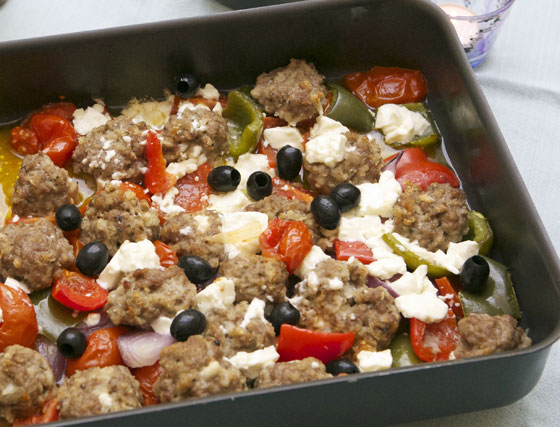 OR – cook and serve up with a delicious rich tomato sauce with pasta and dollops of grated cheese melting slowly on top – as here: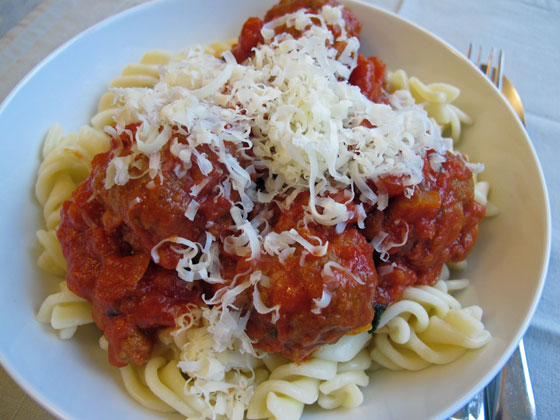 I'm not sure which one I prefer.
If you want to try them both, start with the Roast Meatballs as this begins with uncooked meatballs. Whilst you're roasting, you can cook the other half of the meatballs in a separate dish at the same time. These can be frozen for another time, to reheat in a tomato sauce – which you can either make on the night, or if you have some portions of tomato sauce in the freezer, you can have an almost instant – homecooked – supper (as long as you don't forget to get them out to defrost!).
And they are not expensive.
Using prices from Sainsburys via mysupermarket yesterday they worked out as:
Lamb meatballs with feta in tomato sauce, pasta and grated cheese – costs £5.91 for 4.

Roast lamb meatballs with feta and roast veg – costs £5.25 for 4.
Lamb Meatballs with Feta
(makes enough for 8)
Ingredients
1 kg lamb mince
1 medium onion – chopped finely
1-2 cloves of garlic (according to taste), chopped
2 teaspoons dried oregano
120g breadcrumbs
100g feta, crumbled
Directions
Put all the ingredients into a bowl and mix – you might find it easier to do it by hand.

When thoroughly mixed together, form into about 32 meatballs – each one has about a tablespoon of meat mixture.

Decide which recipe you want to go with. If you're making Roast Meatballs with Feta and Roast Vegetables then start with uncooked meatballs. If you want Meatballs with Feta in Tomato Sauce you'll need to cook them first.

Lay on an oiled tray and cook at 190°C for about 20 minutes until cooked through and browning a little on top.

To freeze – either cooked or uncooked (if the meat wasn't frozen before), lay in one layer and wrap tightly in meal sized portions.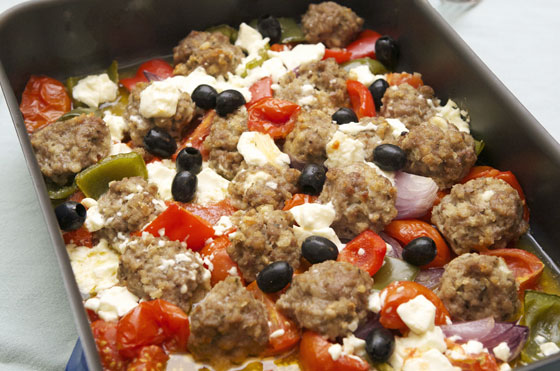 Roast meatballs with Feta and Roast Vegetables
(Serves 4)
You will need:
approx. 16 meatballs made from 500g lamb mince
1 pack mixed peppers
1 red onion
a little oil
some sliced black olives
extra feta (optional)
Directions
Chop the onion into reasonably thin wedges. Wash, de-seed and coarsely chop the peppers. Put in a roasting dish with a little oil. Mix gently.

Lay the meatballs on top.

Bake at 190°C for about 20-25 minutes until the meatballs are cooked and veg are tender. If the meatballs brown before the onions are cooked to your liking, then cover with tinfoil for the last few minutes of cooking.

Scatter with the olives, and serve – with extra feta if you wish.

And for the other half of the meatballs…
Lamb meatballs with Feta in Tomato sauce
(Serves 4)
You will need:
Approx. 16 meatballs made from 500g lamb mince – cooked. (If frozen, defrost completely before cooking)
1 medium onion
1 tin tomatoes
1 tbsp tomato puree
150 mls lamb stock
oil
pasta for four
grated cheese
Directions:
Chop the onion and fry in a little oil until softened.

Add the tin of chopped tomatoes, tomato puree and half the lamb stock.

Stir over the heat for a few minutes and bring to the boil. Turn down heat to simmer and add the meatballs. Simmer for ~10 minutes, stirring gently from time to time, until the meatballs are cooked through and the sauce is thickened. Add more lamb stock if you need to.

Serve with pasta and grated cheese.