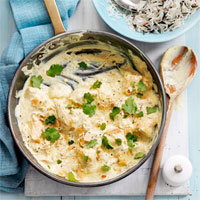 from Good Housekeeping
A very tasty creamy, mildly spicy curry slightly adapted from a recipe from Good Housekeeping
Money saving tip: Use chicken thighs rather than breast.
Approximate cost: £2.62 for 2 (£1.31 each)
(Prices are current from Sainsburys web-site with some guestimates for storecupboard goods)
You need:
(Serves 2)
½ tablesp oil (~5p)
1 onion, sliced (8p)
3 cardamom pods (~5p)
1 clove garlic (3p)
½ teasp ground cinnamon (~5p)
½ teasp mild chilli powder (~5p)
¼ teasp ground turmeric (~5p)
1 teasp coriander seeds (~10p)
Chicken thighs, skinned and chopped into bite-size pieces – approx 2 thighs per person (£1.70 – but cheaper if buy in larger quantities or frozen)
1 tablesp tomato puree (10p)
250g natural yoghurt (30p)
100g long-grain rice (6.5p)
To cook:
Peel and slice onion. Heat oil in a frying pan over a medium heat and gently fry the onion until it becomes soft and translucent (about 5 – 10 mins). Then add the chicken pieces and continue cooking, stirring occasionally.
Meanwhile, crush the cardamom pods with the back of a spoon and empty out the seeds into a mini-chopper or pestle-and-mortar. Add the garlic and the next 4 spices and combine, crushing the coriander seeds as small as possible.
Put the rice on to cook.
When the chicken pieces are cooked all the way through (no pink meat visible if you cut one of the larger pieces in half), add the spice mixture and tomato puree. Continue to cook for a couple of minutes stirring to combine evenly.
Turn off the heat. Add the yoghurt and stir to combine. Serve immediately. If you're feeling posh sprinkle over some flaked almonds and chopped fresh coriander. Enjoy!