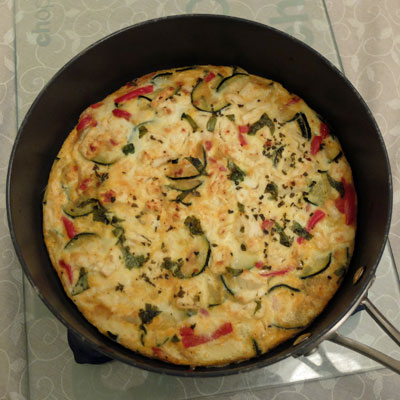 During my recent browsing on the internet for recipes to use up leftover chicken, I came across this delicious Chicken and Feta Frittata.
True to form I fiddled a bit, added in some leftover vegetables and thought I would try a crustless quiche rather than a frittata – less eggs, more cream (well, milk) and cooked in the oven.
It got the vote of approval so I made it again, but this time without chicken as we'd eaten all that. Both versions were good.
Just a word of warning – when I called it 'crustless quiche' everyone told me that it should have pastry (they are a traditional lot), but when I called it 'frittata' everyone was happy!
Courgette, Red Pepper and Feta Frittata (with or without chicken)
(Serves 4)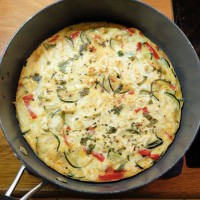 Ingredients
1 small onion, diced
1 red pepper, washed deseeded and diced
(200g cooked chicken, diced – optional)
1 large courgette, washed, halved and sliced thinly
3 eggs
200mls milk
some fresh basil leaves, cut into strips
100g feta, chopped
Directions
Heat the oven to 190°C.
Fry the onions, pepper and courgette in a little oil and a knob of butter, until softened.
In a bowl beat together the eggs and milk with a little salt and pepper.
Spread the vegetables evenly over an oven proof flan dish (~23cms diameter), scatter over the chopped basil and pour over the egg mixture.
Bake in the oven for 45 minutes until set and golden brown on top.
Scatter the crumbled feta over the top and serve.