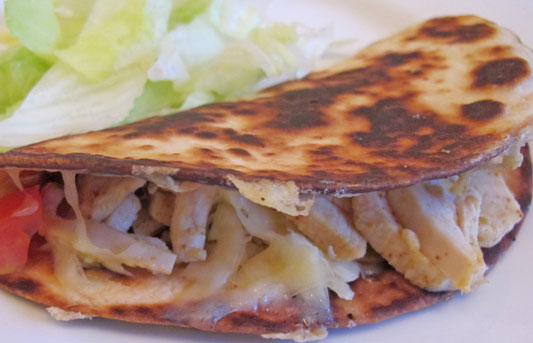 Friday was not a good day. I'd arrived late at work in the morning and had spent most of the day trying to catch up. I finally got home at about 7 in the evening, dropped my bags on the floor, kicked off my shoes and wandered over to the cupboard wondering what I could graze on while I contemplated cooking supper – and just happened to click on the answerphone as I walked past.
"Sorry you're not in…" my friends voice boomed across the kitchen. My hand froze over the biscuit tin as she carried on "… but we'll meet you at the theatre at 7.30 tonight."
Oh dear.
Then – the front door opened and in comes my eldest with friend (I just know they were going to have supper at friends house…) "Hi Mum. What's for supper?"
Aaaagh!!!
Why can't my children cook their own supper, I hear you ask? Great idea I agree – but I have to confess that I have Failed as a mother and despite coaxing / pleading / begging pathetically my eldest has managed to get to this point in his life without learning how to cook anything (apart from ready-made pizza, and I didn't have any of that in the house).
So – it was time for a crash course in how to cook Chicken Tortillas – simple, quick and as healthy as you want to make them – and I was out of the house half an hour later!
I read a similar recipe to this out of a magazine many years ago, but have adapted it and used it with lots of different combinations since. It's good for using up left-over chilli, cooked chicken, cheese, peppers – whatever you like. I would suggest frying the chicken in a little oil and a touch of paprika and mild chilli powder beforehand – it adds a little spiciness and heats the chicken up. We didn't have time here so just used the chicken straight out of the packet.
Chicken Tortillas
(Serves 4)
(Fridge to Table time: 10 minutes – even if your learning!)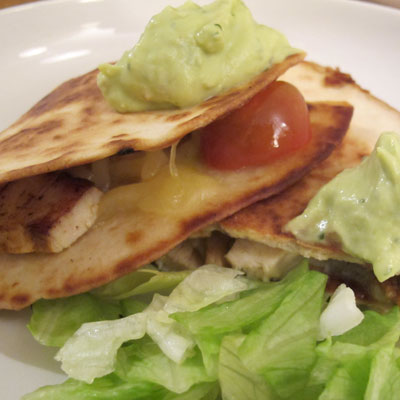 We used:
1 packet flour tortillas
approximately 200g spicy cooked chicken
250g pack of grated cheddar cheese
about 8 cherry tomatoes – chopped roughly
tub of guacamole
Shredded lettuce
a little oil
Method
Get everything chopped and ready, and lined up beside the cooker before starting as you have to move quite fast when you get going. Heat a little oil in a thick bottomed frying pan
When hot place one of the tortillas in the frying pan and cook for a few minutes. You will see that it starts to lift in places – which is time to turn the tortilla over
Sprinkle some chicken, tomatoes, grated cheese and whatever else you fancy over one half of the tortilla – the tortilla is cooking quite quickly at this point so don't hang about
Fold one half of the tortilla over the other and cook for a minute or two until the bottom side of the tortilla is browned, then flip gently over to cook the other side
Serve with shredded lettuce, guacomole, sour cream and extra cheese – or anything else that you wish. Then go and enjoy your evening!