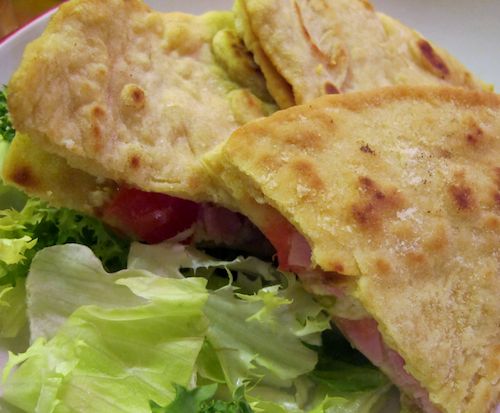 We had a lovely, lovely holiday in Italy last summer during which we saw amazing sights and ate out at a lot of fantastic restaurants.
Interestingly, amongst all the gorgeous meals, one of the nicest we had was eating from a street kiosk one evening, sitting on wooden benches outside a take-away piadineria (with a gelateria next door, of course!).
I hadn't even heard of Piadinas before this – but they are Italian flatbreads – a cross between a pizza and a pitta bread, originating from the north of Italy.
So, back in the UK I thought I'ld have a go at making them. It can be a bit disappointing trying to reproduce holiday food at home as things can taste very different after a whole day of sunny relaxation with nothing to stress about! In fact these aren't quite the same as our holiday piadinas. That may be due to the fact that I've used oil instead of lard as some recipes do – but these come together quickly and taste just as good so no matter.
These can make 'instant pizza'. Made with baking powder – so there is no need to hang around waiting for yeast to perform its magic – and cooked under the grill. And (as all things pizza-like) they are incredibly popular with the children.
Alternatively you can use them as a wrap with any variety of fillings – or cook them a bit like a tortilla in a frying pan with fillings of your choice.
Or – as we discovered last weekend – they can be cooked on the barbecue. Cheesy piadinas wrapped around lamb burgers are my new favourite barbecue meal!
BBQ Cheesy Piadinas
If you want to try BBQ piadinas, follow the recipe below, divide into 8 and roll each out as thin as possible. Lay on the coolest part of the barbecue if you can (too hot and they cook before the cheese melts). I used a large fish slice to transfer them.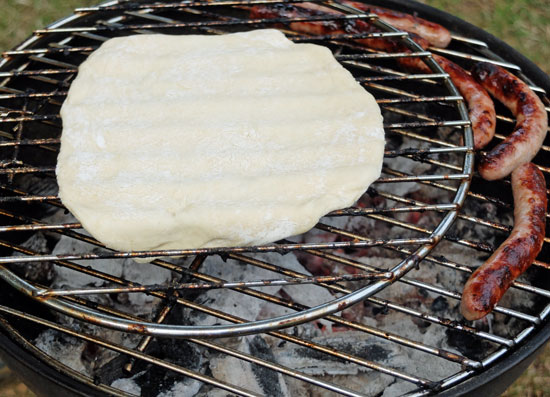 As it cooks the top side start to bubble. If you want nice flat even piadinas, you can prick them with a fork beforehand to stop this, or flatten with your fish slice whilst cooking.
Whatever, this is your clue that the bottom side is probably cooked, so flip over and scatter the top with a thin layer of cheese.
Cook until the piadina is toasted on both sides and the cheese has melted.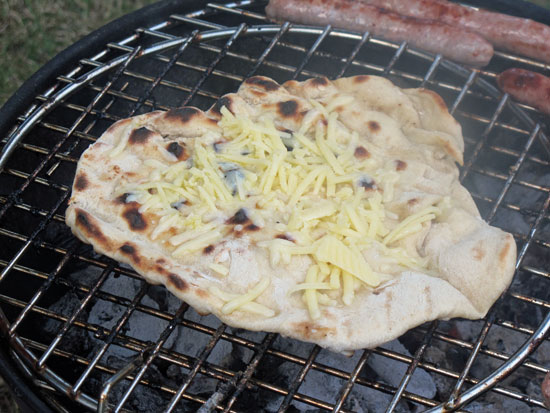 Enjoy wrapped round the filling of your choice!
Piadinas
(Makes 8 small Piadinas)
Ingredients
350g bread flour
½ teasp salt
2 teasp baking powder
2 tbsp olive oil
225 mls water
Directions:
Put all the dry ingredients in a bowl together, mix around and then make a well in the center
Pour the oil and water into the well and stir gently gradually incorporating the flour mixture as you go. When all mixed, leave to stand for a few minutes
Tip the contents of the bowl out onto a board and knead lightly for a few minutes until an even consistency – cover and leave to rest for 30 minutes if you can
Divide into 8 roughly equal parts. Roll out each as thin as possible on a floured board before cooking. If you're taking out to the barbecue, stack them on a plate with a layer of baking parchment / foil between each otherwise they will stick.
Cook – either under a medium grill or on the barbecue. Shake any excess flour off first or it can start to singe.
Under a medium grill they will start to bubble, rise and then brown. This only takes 1-2 minutes and you need to watch them fairly carefully as it's easy to burn them. Turn over, scatter with whatever topping you wish (grated cheese / brush with garlic butter / turn them into pizza with tomatoes, ham and cheese) and grill again for a few minutes until done to your liking.